The number of shootings this year alone in Chicago has already surpassed 1,000, marking the steepest increase in the Windy City in decades — something the Chicago Tribune described as a "grim milestone."
As of Wednesday, according to Tribune records, the total number of shootings stood at 1,008, which includes the 4-year-old boy who suffered a gunshot wound to his foot. He is expected to survive.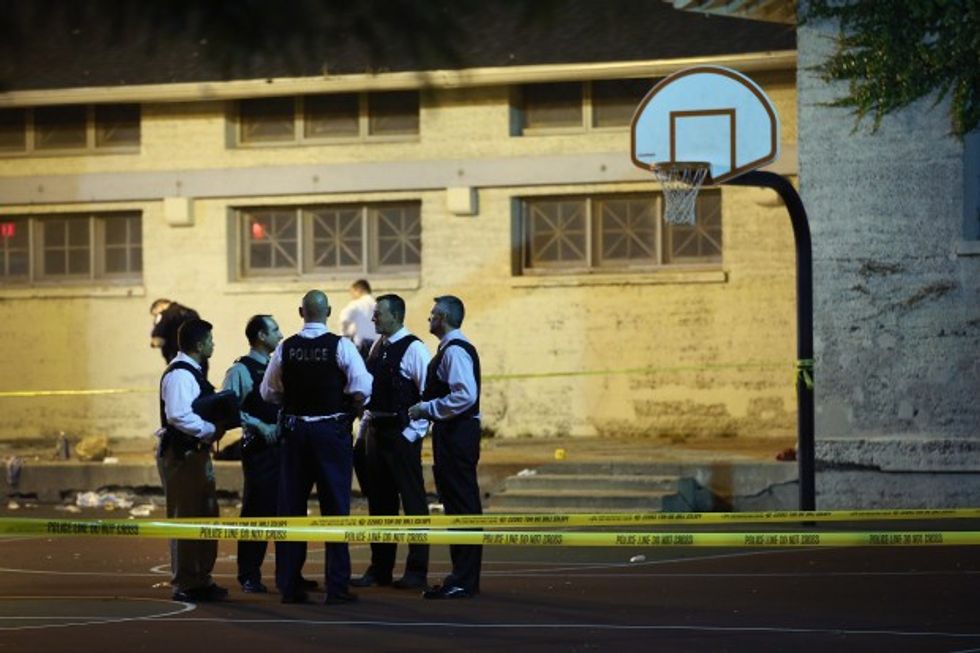 Police investigate the scene in Cornell Square Park on the Southside where 11 people including a three-year-old child were shot on September 19, 2013 in Chicago, Illinois. Eighteen people were reported shot in the city, including one fatally, in less than a four-hour period on Thursday evening. (Photo by Scott Olson/Getty Images)
Chicago's struggle with gun violence is well-documented, but 2016's statistics shockingly outpace the number of shootings in recent years. At this same time last year, the city did not reach 1,000 shootings until June, though 3,000 were recorded in total. Chicago did not surpass 1,000 shootings until June of 2014 or 2013, either.
According to the Chicago Police Department's CompStat data through April 17, shootings have seen a sharp 67 percent increase from this same time last year. But perhaps the most shocking increase is compared to 2014: shootings have soared by a staggering 133 percent from this same point two years ago.
Murders are also on the rise, according to the Tribune. A total of 172 people have been killed in Chicago so far this year — up approximately 64 percent from last year, according to police reports. In fact, April has averaged one murder per day.
These numbers come at the same time as the Chicago police are facing negative press for a report suggesting the force has a history of systematic racism. An independent task force, which was commissioned by embattled Chicago Mayor Rahm Emanuel following the release of video portraying the police shooting of 17-year-old Laquan McDonald, recommended a total re-working of the department in order to renew trust among minority community members.
Emanuel has indicated he will instruct law enforcement to begin implementing some reforms to the police department, including meeting with community leaders, "de-escalation" training to curb excessive force by officers and expanding the use of body cameras.
In addition, the U.S. Justice Department opened its own investigation into the misconduct within Chicago Police Department in December of last year. That probe will likely take a year to complete.
—
Follow the author of this story on Twitter: