A journalist reported that a member of the American University media relations team attempted to stop her film crew from taking video of a student protest outside a conservative writer's speech Thursday evening.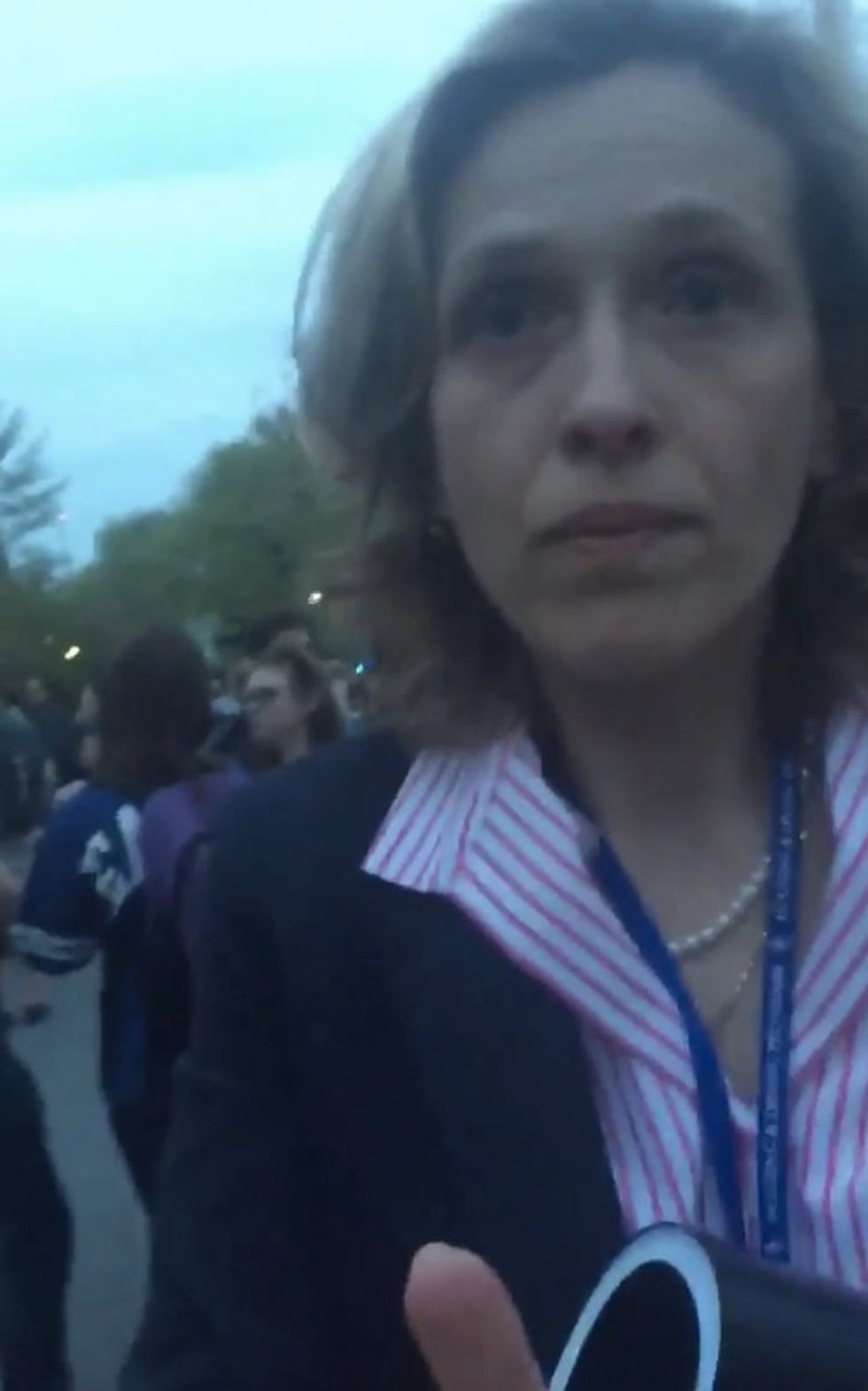 Image source: Twitter video screenshot
Washington Examiner commentary writer Ashe Schow posted video of the encounter outside Milo Yiannopoulos' speech on Twitter and YouTube.
"We were filming a protest and she was demanding we stop and go inside with her," Schow tweeted.
Here is the Melissa Click of American University. We have much much more footage too. pic.twitter.com/C8cLY9U6Da

— Ashe Schow (@AsheSchow) April 22, 2016
"Are you kidding me?" the woman was seen asking on the clip before she asked to see one person's cellphone. When her request was denied, the woman began walking away and saying she was calling the police.
Schow called the woman "the Melissa Click of American University," referring to the fired University of Missouri assistant professor who was infamously caught on video calling for "muscle" to remove a journalist from a student protest.
Here's another clip:
@AsheSchow All in the name of creating a "safe space" pic.twitter.com/99qBq3anqW

— Hannah Oh (@hannahoh16) April 22, 2016
The woman added that "there are certain regulations that the university is guided by. We're not just providing a room, we're providing also a safe space for everybody who works or studies on this campus."
Schow then tweeted that when police arrived they did nothing to her or her film crew — but instead escorted the woman away.
Lol the police came over and she thought they were going to save her but actually they escorted HER away https://t.co/eA1i1q1Her

— Ashe Schow (@AsheSchow) April 22, 2016
Camille Lepre, assistant vice president of University Communications at American University, on Friday told TheBlaze in a statement that "Ashe Schow and her three colleagues with professional audio-visual equipment presented herself as a reporter from The Washington Examiner and provided her business card. She was allowed to film the protest happening outside the event, prior to the speech."
Lepre added that when "AU's media representative was required inside the venue to assist other reporters who were present at the event, she asked Schow to go inside per the ground rules. Schow declined and later claimed that she was not with The Examiner. Based on this and her reluctance to come inside with the media relations representative, we sought to involve the Campus Police. An assessment was made and, since the protest continued outside, the reporter was permitted to remain and film the protest until it was over."
Lepre added that Schow said she was with a documentary film crew when declining to go inside the venue and that AU's media representative wasn't escorted away from the area, only that she was talking with police.
Schow on Friday told TheBlaze she never said she was with the Examiner; rather that she was with a freelance film crew gathering footage for an upcoming documentary about campus free speech titled "Thought Police."
"I was not there in my capacity as an employee of the Examiner and we told her as much," Schow added. "It didn't matter. Even if I was there as a representative of the Examiner her actions were uncalled for. She wouldn't give us a stable reason why we had to stop filming and go with her inside. Her answer kept changing. We were also the only people filming being treated this way. She said the others filming were students but she never checked their IDs and didn't speak to everyone filming."
(H/T: Mediaite)