Former University of Missouri assistant professor Melissa Click, who was fired after after she tried to block a student journalist from documenting last year's controversial protests on the college's campus, revealed in a recent interview her theory on why she was fired: because of her skin color.
Click recently told "The Chronicle of Higher Education" that her termination was all about "racial politics."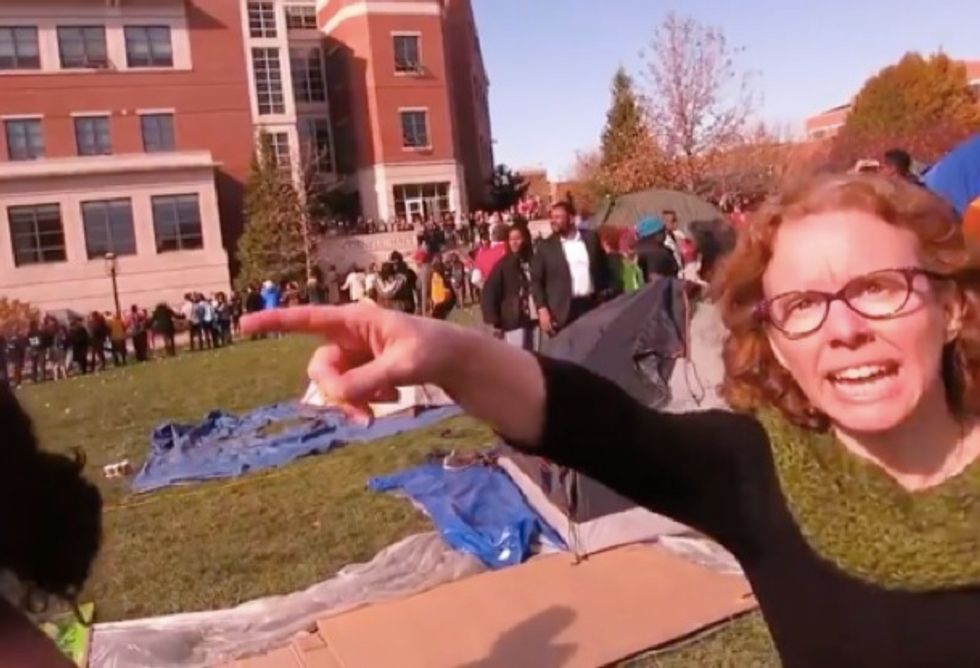 University of Missouri communications professor Melissa Click telling student-journalist Mark Schierbecker to leave students' space. (Image source: YouTube)
"This is all about racial politics," Click told the publication in an interview published Sunday. "I'm a white lady. I'm an easy target."
She elaborated to say that the Missouri's Board of Curators fired her to "send a message that the university and the state wouldn't tolerate black people standing up to white people," though Click didn't explain how that affected her as a white woman.
It was announced in February that Click was being terminated from her position as an assistant mass media communications professor after video of her confronting a student journalist and a police officer put her in the national spotlight.
"Dr. Click was not entitled to interfere with the rights of others, to confront members of law enforcement or to encourage potential physical intimidation against a student," the University of Missouri's board chairwoman Pam Henrickson said at the time.
The Chronicle story comes after the publication shadowed Click for a day.
—
Follow the author of this story on Twitter and Facebook:
[facebook //www.facebook.com/plugins/like.php?href=