NEW YORK — GOP front-runner Donald Trump came out in front Tuesday as he swept all five of the Acela primary states.
And not only did the billionaire businessman sweep Connecticut, Delaware, Maryland, Pennsylvania and Rhode Island Tuesday night, Trump also won by large margins in the northeastern states.
"I am so honored," Trump told supporters gathered at his Trump Tower in Midtown Manhattan later Tuesday night. "This to me was our biggest night."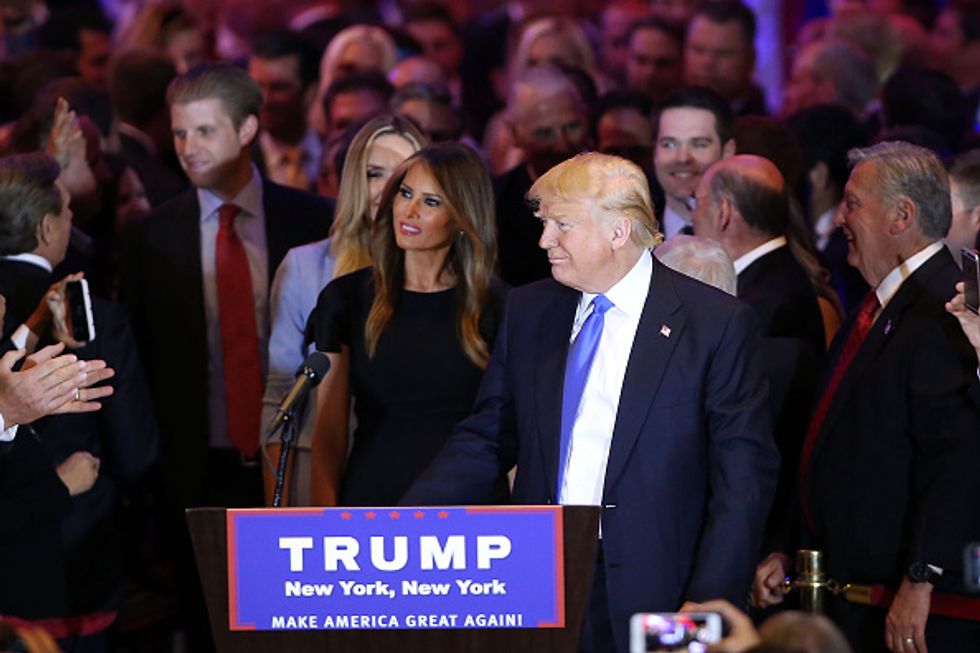 Republican presidential candidate Donald Trump speaks to supporters and the media at Trump Towers following the conclusion of primaries Tuesday in northeastern states on April 26, 2016 in New York, New York. Trump again gained more delegates to move him closer to the Republican presidential nomination. (Getty Images/Spencer Platt)
"I consider myself the presumptive nominee. Absolutely," Trump told reporters and supporters, adding that his GOP rivals Ohio Gov. John Kasich and Texas Sen. Ted Cruz should drop out of the race. 
While the exact number of delegates won't be determined until later, Trump's significant wins in all five states will help solidify his position to garner the majority of the 172 total delegates at stake. With more than 900 delegates thus far, Trump is hoping to reach the pivotal 1,237 delegate  threshold prior to the convention this summer.
During his speech, Trump continued to slam his two GOP rivals as they team up against him in upcoming primary states — a move Trump has called weak and a "faulty deal." He also made sure to change Kasich's nickname to "1 in 46" during his speech Tuesday night.
"Why is he here?" Trump rhetorically asked, adding that former GOP candidates such as Dr. Ben Carson and Florida Sen. Marco Rubio were better candidates than the Ohio governor.
Trump also made sure to thank the media for "very fair" coverage over "the last few weeks."
"Tonight was a huge win to Make America Great Again," read a text from the Trump campaign to supporters Tuesday night after the primary results were announced. "We now stand alone to take on Hillary and win the White House."
Trump's wins on Tuesday gives his campaign the needed momentum as the presidential candidates head to Indiana. Trump will campaign with infamous Coach Bobby Knight while in the Hoosier State.
"We're going to be fighting really hard," Trump said of his campaign's future.
Prior to his speech and subsequent press conference, Trump attended the 2016 Time 100 Gala across town.
This story has been updated. 
—
Follow Kaitlyn Schallhorn (@K_Schallhorn) on Twitter