RALEIGH, N.C. (TheBlaze/AP) -- A day of protests and arrests around North Carolina's statehouse marked what's likely to be weeks of impassioned debate over a law limiting protections for LGBT people.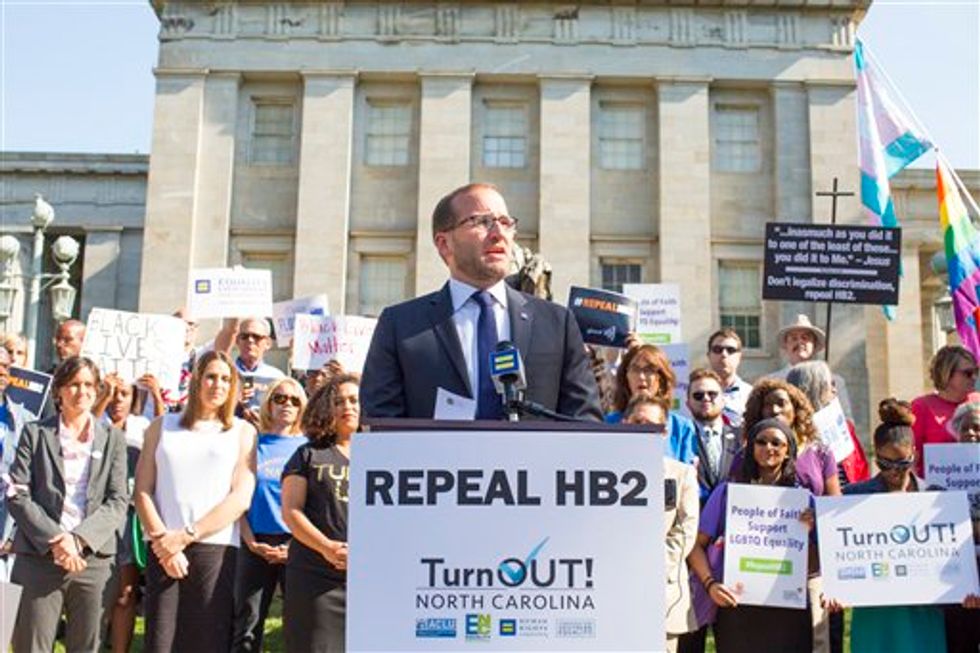 Chad Griffin, president of Human Rights Campaign, speaks at a press conference during TurnOUT! NC, a joint project to mobilize LGBT and pro-equality North Carolinians to deliver tens of thousands of signatures calling for the repeal of House Bill 2 to the office of Gov. Pat McCrory Monday, April 25, 2016 at the old state capitol building in Raleigh, NC. (Jason E. Miczek/AP Images for Human Rights Campaign)
Officers arrested 54 protesters who came to voice opposition to the law late Monday as legislators returned to start their session. The arrests capped a day of dueling demonstrations that also included thousands of people who gathered to praise the law, including state senator Buck Newton who drew applause after telling supporters, "we must fight to keep our state straight."
Watch: At the pro-HB2 rally Senator Buck Newton remarked "we must fight to keep our state straight." #WeAreNotThis pic.twitter.com/GVXaLhLIT9

— Equality NC (@equalitync) April 26, 2016
The state's top elected Republican leaders said they don't plan to repeal it, a stance likely to stoke further protests.
Dozens intent on disrupting lawmakers created a raucous atmosphere at the state legislative building following an afternoon rally that drew hundreds of the law's opponents.
Ken Jones of Swannanoa was among three-dozen demonstrators who stayed to make noise long after the chambers gaveled out. He said he was encouraged by the fact that dozens were willing to risk arrest.
"It's a reason for hope. There's so many of us here," he said. "I'm pretty passionate about it."
Three waves of several dozen people held sit-ins outside the offices of legislative leaders. The final group included those who sought to be arrested to make their point.
Shortly before the evening session began, more than a dozen demonstrators walked into House Speaker Tim Moore's office and began chanting.
Most were led out quietly, but one woman chanted: "Forward together, not one step back!"
Each time one was led out, fellow protesters chanted standing nearby shouted: "Thank you! We love you!"
A few minutes later, law enforcement officers started leading out the protesters who had entered Moore's office, one by one, in plastic handcuffs. One man had to be carried out.
Eighteen of those arrested were led from Moore's office, while the rest were arrested a couple of hours later outside Moore's closed office as officers sought to close the building for the night.
Others protested inside the state legislature's House gallery, WRAL-TV reported.
"We won't do HB 2," the protesters chanted, referring to the law by its initials. "North Carolina sticks together."
Protestors against #HB2 in #ncga House gallery tonight. #wral pic.twitter.com/oSlITyC4DI

— WRAL Gov't Coverage (@NCCapitol) April 25, 2016
They were eventually cleared from the chamber, but continued protesting in the building lobby.
Protestors were cleared from #ncga House gallery, resumed protest in lobby. Clearing now. #wral #hb2 pic.twitter.com/vhh09kHcdZ

— WRAL Gov't Coverage (@NCCapitol) April 25, 2016
Acting General Assembly Police Chief Martin Brock said all would be charged with second-degree trespassing, and would be cited for violating building rules or the fire code. Brock says one also faces a resisting arrest charge.
Earlier in the day, thousands of Christian conservatives and other supporters of the law known as House Bill 2 gathered on a grassy mall behind the Legislative Building on the legislature's opening day to praise the mostly Republican legislators and GOP Gov. Pat McCrory for passing the restrictions last month in a special session.
"It took great courage for them to establish this bill," said Doug Woods, 82, of Raleigh, a rally participant. "They need to stand firm."
The law blocks local and state protections for lesbian, gay, bisexual and transgender people and directs which restrooms transgender people can use in public buildings. Key lawmakers who pushed through the legislation also urged the rally attendees to contact colleagues and fight off efforts to overturn the law.
"The battle is about to be engaged," said Rep. Paul Stam, R-Wake, a veteran of North Carolina's cultural wars, addressing the crowd.
Republican legislative leaders have expressed no interest in overturning the new law. GOP lawmakers have focused their discussion of the law on provisions requiring transgender people to use multi-stall restrooms that align with their gender at birth.
North Carolina House Democrats filed legislation Monday to repeal the law, though a lack of Republican sponsors made its chances appear slim.
Moore and McCrory said separately Monday that the law won't be repealed this session.
Senate leader Phil Berger said Monday night that he wasn't swayed by the protesters.
"I don't know that it'll change anybody's mind. I certainly would prefer that we not have this sort of protest. But you know, people have a right to express their opinion if they're upset about something we've done or disagree with something we've done," he said. "And I think most people, when I talk to folks back home, they have a real hard time understanding why people can't be more civil."
–