Three black female students from State University of New York at Albany were indicted earlier this year for allegedly lying about a racially motivated attack on a city bus. Back in March, two of the three women pleaded not guilty to charges of falsely reporting the incident they claimed occurred Jan. 30.
The office of Albany County District Attorney David Soares told the Times Union that a subsequent criminal investigation into the attack, which launched a university-wide debate over race relations, recently confirmed that the friends were in fact the aggressors, not the victims.
Investigators used surveillance video taken from the bus to verify earlier accusations that one of the accusers used a racial slur against a white female passenger.
Following the discovery, 20-year-olds Ariel Agudio, Asha Burwell and Alexis Briggs will be arraigned Wednesday in County Court before Judge Stephen Herrick.
The indictment, announced Monday by Soares' office, comes after negotiations last month resulted in the proposal of a possible plea deal between prosecutors and the defendants' lawyers that sought to have the women apologize for the false report.
Agudio, a Long Island resident, now faces one charge of assault, three counts each of attempted assault and falsely reporting an incident, all misdemeanors, and three counts of harassment, according to the Times Union.
Burwell, also from Long Island, faces one misdemeanor count of assault, four misdemeanor counts of falsely reporting an incident and one count of harassment. She was also charged with allegedly engaging physically with a 19-year-old male passenger.
Briggs of Chemung County, New York, is charged with one misdemeanor count of assault and two misdemeanor counts of falsely reporting an incident.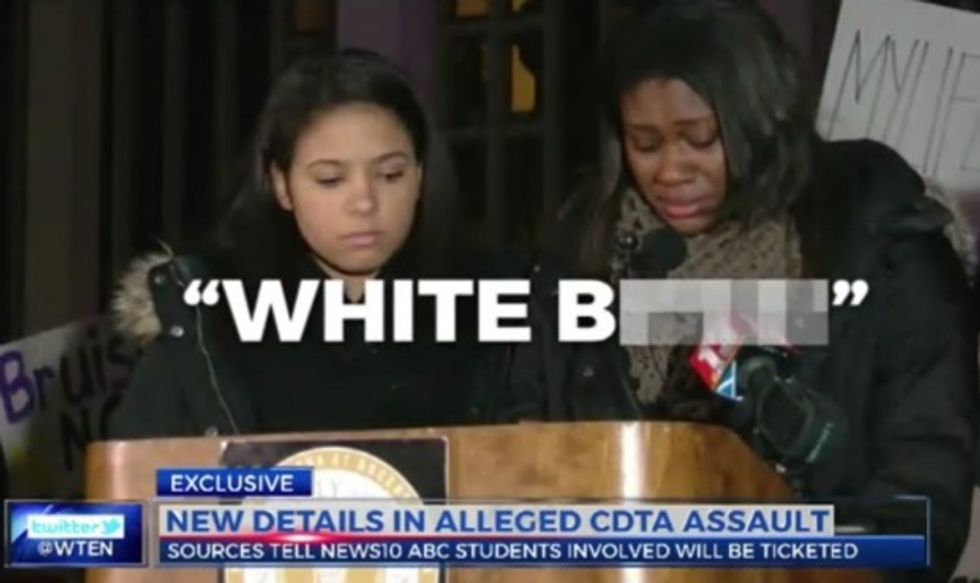 Image source: WTEN-TV
The indictment states that at around 1 a.m. Jan. 30, while aboard a city bus on the SUNY at Albany campus, the women struck and injured a 19-year-old female passenger, the Times Union reported. It also states that Agudio repeatedly struck and attempted to injure a 19-year-old male passenger and attempted to hurt two other female passengers, ages 18 and 20.
The document goes on to allege that the three falsely reported the incident to officials after exiting the bus and then repeated the allegations in days following the altercation, gaining national attention from the media and activist groups demanding justice for what they believed to be a racially motivated hate crime.
There's no excuse for racism and violence on a college campus. https://t.co/ADVghl4iEv -H

— Hillary Clinton (@Hillary Clinton) 1454596374.0
Soares' spokeswoman Cecilia Walsh declined to comment on the new charges Monday. The Times Union reported that Chief Assistant District Attorney David Rossi is handling the prosecution of the case.
Defense lawyer Michael Horan said Soares might present a case to a grand jury to determine if a felony was committed.
"It's not as simple as who started a fight because the victim could assault a person who started the fight and go beyond the point of defending themselves," Horan told the Times Union. "It's another layer of protection especially because it's such a sensitive case."
"It's an emotionally charged incident and has caused great division in the community for a misdemeanor," said Albany defense attorney Paul DerOhannesian, noting that the case is not like some police shootings that occur as a result of racial animonsities. "It's at the discretion of the DA if he wants to proceed in that route."