Ahead of their highly anticipated meeting this week, House Speaker Paul Ryan (Wis.) announced that he would step down as the co-chairman of the Republican Party's summer convention should presumptive nominee Donald Trump so ask.
Yet sources tell TheBlaze that such a move is unprecedented and that Ryan's replacement isn't exactly known.
"It's not written down in any rules that the top Republican in the House of Representatives shall chair the convention, but it has been a universal practice that if there's a Republican speaker, he chairs the convention," Virginia RNC chairman Morton Blackwell, a longtime member of the party's rules committee, told TheBlaze Monday afternoon.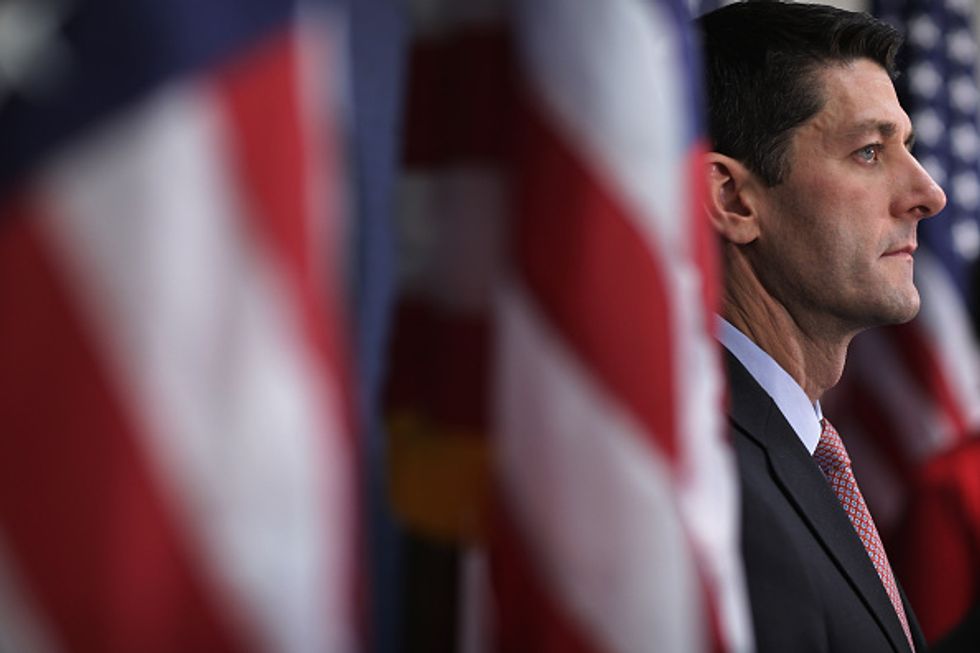 House Speaker Paul Ryan (R-Wis.) holds a news briefing at the U.S. Capitol. (Getty Images/Chip Somodevilla)
If the House speaker were not a Republican, the RNC would then look to the House minority leader as the co-chair, Blackwell said.
Blackwell, who was just elected to this eighth consecutive four-year term as Virginia's Republican national committeeman, declined to speculate who would take Ryan's place as co-chair should he step down.
"I have no doubt that, unless there's some unanticipated reason, unless he chooses not to be chair, he will be elected chairman," Blackwell said.
The RNC declined to comment regarding the specifics of Ryan's announcement, but a spokesperson simply told TheBlaze that "while duties of the officers are not detailed in the rules, the role of the convention chairman is to preside over the convention."
Ryan announced last week that he is "just not ready" to support Trump as the GOP's presumptive nominee yet, contending that he's "not there right now." And in a recent interview with his home state's Milwaukee Journal Sentinel, he said that he would be willing to step down as the co-chair of the Republican convention held this summer.
"He's the nominee," Ryan said. "I'll do whatever he wants with respect to the convention."
Ryan's office also did not speculate further on what that could mean for the convention.
Trump himself has said that he was "blindsided" by Ryan's announcement that he was unable to support him as the presumptive nominee but declined to say whether or not he would ask the speaker to step down as co-chair of the convention.
"I will give you a very solid answer, if that happens, about one minute after that happens," Trump told NBC's "Meet the Press" over the weekend. "But there's no reason to give it right now."
Ryan clarified with the Journal Sentinel that he "just want[s] to get to know the guy" before offering his support as the top elected Republican official.
"I never said never. I just said (not) at this point," Ryan said. "I wish I had more time to get to know him before this happened. We just didn't."
Trump and Ryan are scheduled to meet Thursday along with RNC Chairman Reince Priebus and other top Republican leaders.
—
Follow Kaitlyn Schallhorn (@K_Schallhorn) on Twitter