Democratic presidential front-runner Hillary Clinton and presumptive Republican nominee Donald Trump are nearly tied in three swing states, according to a new Quinnipiac University poll released Tuesday.
The survey found that Clinton holds a one-point lead over Trump in Florida and Pennsylvania (43 percent to 42 percent in both states), whereas Trump holds a four-point lead over Clinton in Ohio (43 to 39 percent).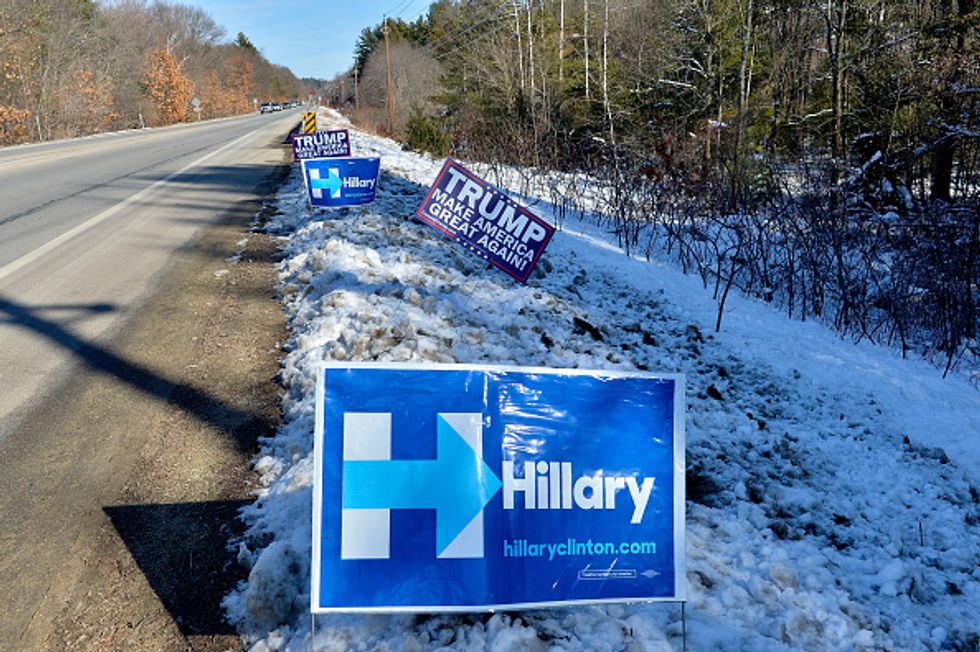 Hillary Clinton and Donald Trump campaign signs posted in Hudson, New Hampshire. (Paul Marotta/WireImage)
"Six months from Election Day, the presidential races between Hillary Clinton and Donald Trump in the three most crucial states, Florida, Ohio and Pennsylvania, are too close to call," Peter A. Brown, assistant director of the Quinnipiac Poll, said in a statement released with the survey's findings.
The report also revealed that Democratic presidential contender Vermont Sen. Bernie Sanders polled better than Trump in all three states: 44 percent to 42 percent in Florida; 43 percent to 41 percent in Ohio; and 47 percent to 41 percent in Pennsylvania.
Brown added that the gender gap between Clinton and Trump is "massive" and benefits the Manhattan businessman.
While Clinton is ahead by 13 points among women in Florida, she is also down 13 points among men. In Pennsylvania, she is ahead by 19 points among women, but Trump has a 21-point lead among men. And in Ohio, Clinton has a seven-point lead among women, but is down 15 points among men.
"This election may be good for divorce lawyers," Brown said.
The survey of the three states also found voters believe — by wide margins — that Clinton is more intelligent than Trump. Voters also believe, but by smaller margins, that Clinton has higher moral standards.
The Quinnipiac University survey was conducted from April 27 to May 8 with a margin of error or +/- 3 percentage points in all three states.
Clinton leads Trump nationally by an average of 5.8 percent, according to Real Clear Politics' aggregated polling data.
Read more of the survey's findings here.
—
Follow Kaitlyn Schallhorn (@K_Schallhorn) on Twitter