Donald Trump took aim at Amazon founder and CEO Jeff Bezos Thursday night, telling Fox News host Sean Hannity that the billionaire tech titan is using The Washington Post to save his Internet company "in terms of taxes and in terms of antitrust."
Trump's remarks came when Hannity asked about a report the newspaper had assigned approximately 20 reporters to write a book covering each phase of his life.
"Yeah – it's interesting that you say that because every hour we're getting calls from reporters from The Washington Post asking ridiculous questions and I will tell you, this is owned as a toy by Jeff Bezos who controls Amazon," Trump said.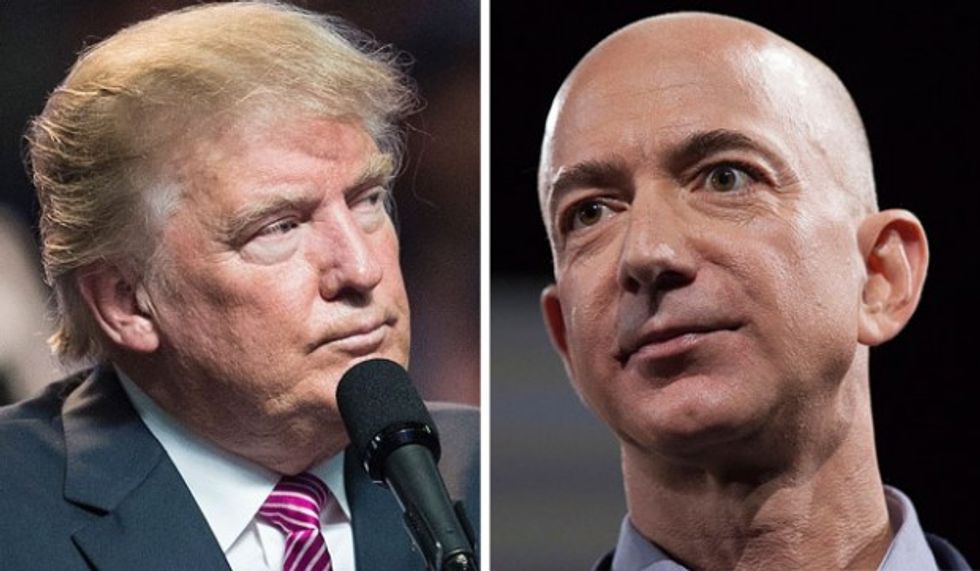 Getty Images / TheBlaze
The presumptive Republican nominee alleged that "Amazon is getting away with murder tax wise" and that Bezos was using the Post "for power so that the politicians in Washington don't tax amazon like they should be taxed."
Trump added that Bezos is "worried" about him securing the presidency "because he's got a huge antitrust problem" with Amazon and that he would "go after him."
"What they've done is he bought this paper for practically nothing and he's using that as a tool for political power against me and against other people and I'll tell you what, we can't let him get away with it," Trump said.
The real estate mogul said that the 20 some reporters were authoring "really bad stories."
"I mean they're wrong, I wouldn't even say bad, they're wrong and in many cases have no proper information and they're putting them together, they're slopping them together and they're going to do a book and the book is going to be all false stuff up because the stories are so wrong and the reporters, I mean one after another," he said.
"So what they're doing is – he's using that as a political instrument to try and stop antitrust, which he thinks I believe he's antitrust, another word's what he's got it's a monopoly and he wants to make sure I don't get in," Trump added.
The brash presidential candidate concluded by reiterating that he believed Bezos is "using The Washington Post, which is peanuts, he's using that for political purposes to save Amazon in terms of taxes and in terms of antitrust."
Earlier in the day, the newspaper's Executive Editor Martin Barson released a statement fighting against those exact charges.
"As the individual who oversees The Washington Post's news staff, I can say categorically that I have received no instructions from Jeff Bezos regarding our coverage of the presidential campaign — or, for that matter, any other subject," he said. "The Post has a long tradition of publishing thorough examinations of the major party nominees for president. The decision to write a book on Donald Trump came entirely from the newsroom."
—
Follow the author of this story on Twitter and Facebook: