President Barack Obama's directive on transgender bathroom use has been met with a lot of opposition, and now Republican Rep. Steve King (Iowa) is calling for "civil disobedience" in response to the new guidelines.
"We should call for civil disobedience here," King told 1040 WHO radio host Simon Conway, of Des Moines, Iowa, Tuesday. "And there's no reason for us to follow an unconstitutional edict from the president, who is on his way out the door."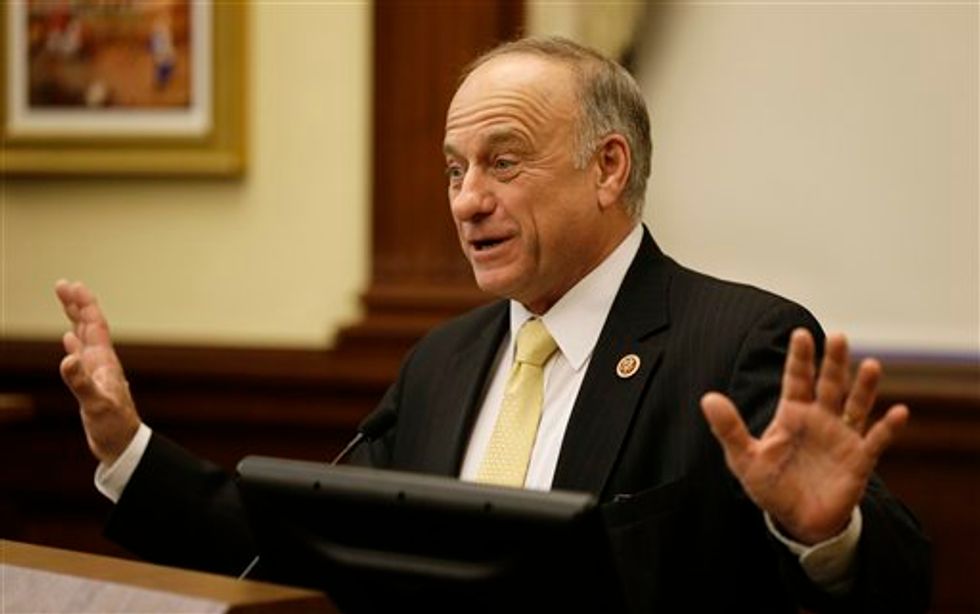 AP/Charlie Neibergall
The new White House guidelines, which Conway said would discourage his own daughters from using gym showers, mandates public schools "must allow transgender students access to such facilities consistent with their gender identity."
"Well, and that will probably change our culture," the representative said of the policy. "We'll have a bunch of sweaty women around."
King, one of several Republicans who wants to hold hearings on the directive, believes the mandate from the Obama administration is an executive overreach. The rule does not carry with it the force of law, but does assert that Title IX of the Education Act of 1972 includes transgender people in its ban on discrimination based on sex.
As for why the new policy was handed down, King told Conway he feels the controversial directive can be credited to the new U.S. Commission on Civil Rights personnel needing "to find more things to do."
"More personnel needed to find more things to do and that is the root of this school policy or where Obama got it from, he asserted. "So we're going to explore that more fully. I need to be more astute at how movements begin — the genesis of these kinds of policies — so that we can go find them before they proliferate and become contagious across the countryside."
—
Follow the author of this story on Twitter: