MSNBC anchor Rachel Maddow argued Thursday night that a potential debate between Donald Trump and Bernie Sanders would be a major victory for the presumptive Republican nominee.
"Strategically, from Donald Trump's perspective, this is a like a hat trick, and a grand slam and a slam dunk all in one," Maddow said. "There's no down side to Donald Trump doing this."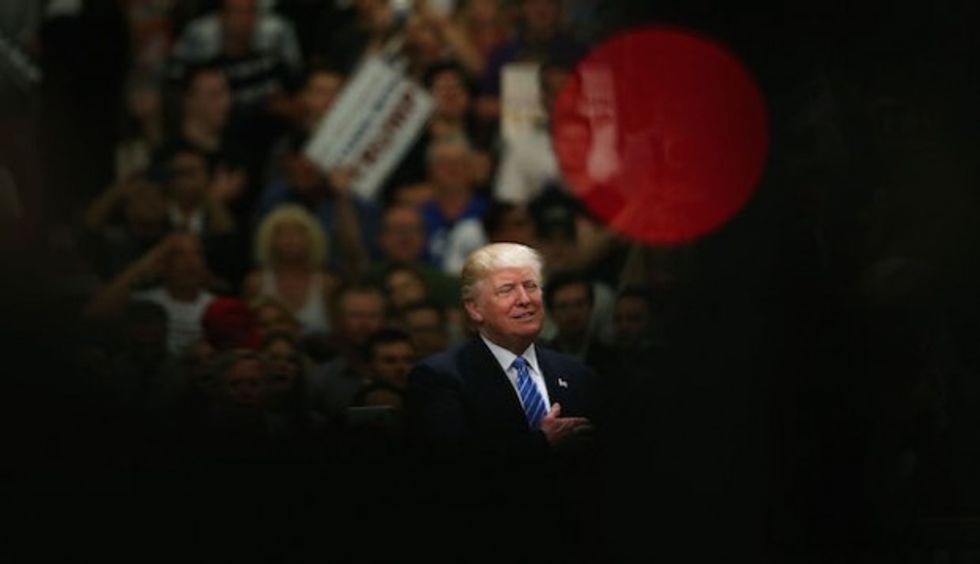 Photo by Spencer Platt/Getty Images
The MSNBC host went on to suggest that, even — and maybe especially — if Sanders won the proposed matchup, things would only look better for Trump.
"The better Bernie Sanders looks in a debate with Donald Trump, the better it is in the long run for Donald Trump," Maddow asserted. "Because that would only elevate Bernie Sanders' standing in the ongoing Democratic primary — which is still ongoing."
While Sanders has virtually no path to securing the Democratic nomination over rival Hillary Clinton, she said, Trump enters the debate with no risks, given the fact that he's already surpassed the threshold of delegates necessary — 1,237 — to clinch the GOP nomination.
"If you elevate Bernie Sanders' standing in that primary, which Bernie Sanders has no chance of winning," Maddow said, "that still prolongs that already long and expensive primary. It further undermines Hillary Clinton's standing as the Democratic likely nominee."
Though she finds the prospect of such a debate "very strange," she did admit that it is "all upside" for Trump.
However, Maddow said she does not understand why any Democrat would allow the real estate developer to play any part in their primary contest, comparing it to the prospect of a 2012 debate between President Barack Obama and then-Republican presidential candidate Newt Gingrich.
"It would have been a hilarious, hilarious play in the other party's primary," Maddow said. "A giant, cross-party dirty trick."
(H/T: Raw Story)
—
Follow the author of this story on Twitter: