Libertarian Party presidential nominee Gov. Gary Johnson said that according to the results of an online quiz he took, he agrees with Democratic presidential candidate Sen. Bernie Sanders on "73 percent" of the issues during an interview Tuesday on C-SPAN's "Washington Journal."
Johnson said he took the quiz on ISideWith.com to determine which candidate he "sides with," and he had a great deal in common with the self-described "democratic socialist" senator from Vermont.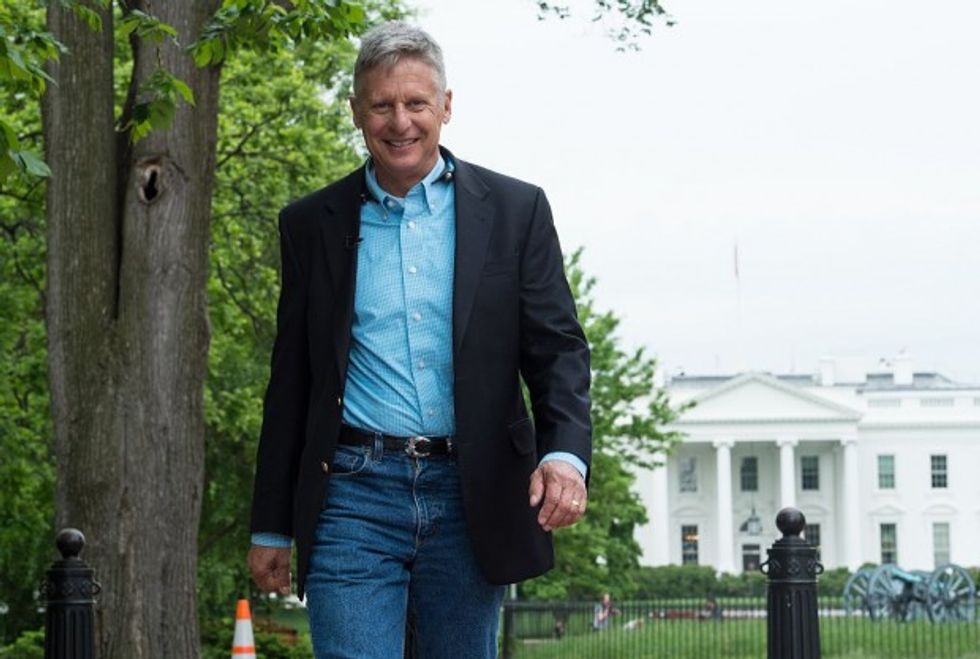 US Libertarian Party presidential candidate Gary Johnson walks in Lafayette Park across from the White House during an interview with AFP in Washington, DC, on May 9, 2016. (NICHOLAS KAMM/AFP/Getty Images)
"Of course I side with myself 100 percent of the time, but interestingly, of all the presidential candidates, I next side with Bernie Sanders at 73 percent," Johnson said. "Now, that's the side of Bernie that has to do with pro-choice, pro-marriage equality, let's stop with the military interventions, that there is crony capitalism, that government really isn't fair when it comes to this level playing field, um, legalize marijuana."
"Look, 73 percent of what Bernie says I agree with," he added. "We come to a 'T' in the road when it comes to economics. I would really argue that if we absolutely had a fair system of economics, that free markets, that we would do a lot better than going down the path of socialism."
Johnson said that socialism and libertarianism can coincide as long as it's "voluntary."
"But, when it's forced, that's tyranny. So, that's the libertarian perspective, but I think there's so much in common, that just factually speaking, take a look, take a look, Bernie Sanders supporters, take a look at who you next side with."
Johnson secured the Libertarian nomination Sunday at the party's convention.
Watch below:
—
Follow Kate Scanlon (@kgscanlon) on Twitter