Rep. Marsha Blackburn (R-Tenn.), the chairman of the House Select Panel on Infant Lives, called on the U.S. Department of Health and Human Services on Wednesday to investigate StemExpress and several abortion clinics for potentially violating federal law.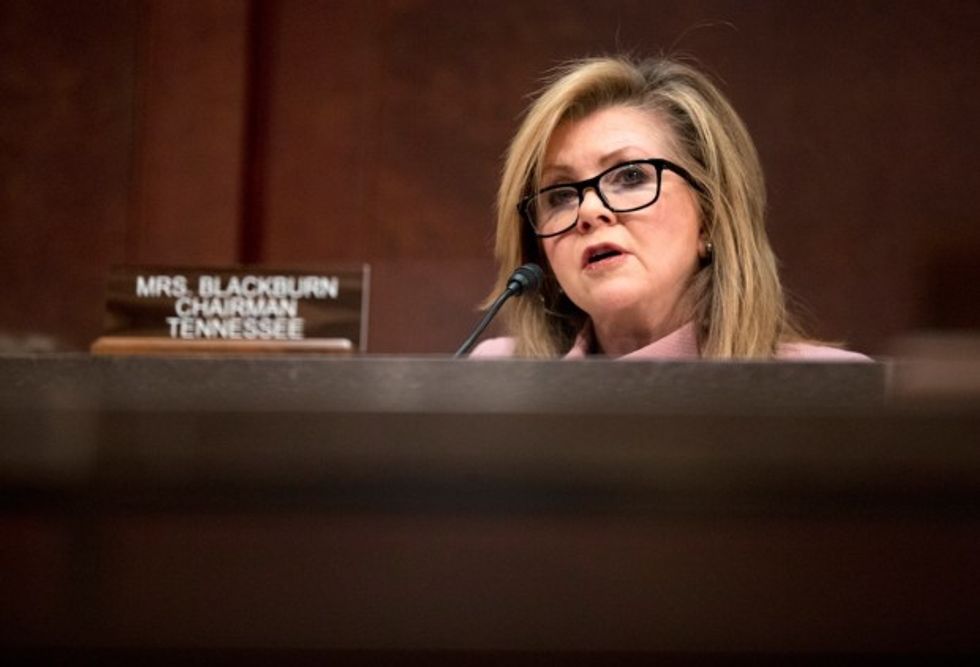 House Select Investigative Panel on Infant Lives Chair Rep. Marsha Blackburn, R-Tenn., presides over the committee's investigating Planned Parenthood, Wednesday, March 1, 2016, on Capitol Hill in Washington. (AP Photo/Manuel Balce Ceneta)
Blackburn said that the Select Panel's investigation uncovered evidence that shows StemExpress and the abortion clinics may have violated the Health Insurance Portability and Accountability Act of 1996 – or HIPAA – by allowing StemExpress to review the private medical records of patients.
.@MarshaBlackburn is calling on HHS to investigate potential HIPAA violations by StemExpress and abortion clinics https://t.co/DMhfdTc5sk

— Kate Scanlon (@Kate Scanlon) 1464817242.0
HIPAA protects individually identifiable medical information https://t.co/lazpgU2i08

— Kate Scanlon (@Kate Scanlon) 1464817717.0
In a letter to the Office of Centralized Case Management Operations at HHS, Blackburn wrote that "These violations occurred when the abortion clinics disclosed patients' individually identifiable health information to StemExpress to facilitate the [tissue procurement business'] efforts to procure human fetal tissue for resale."
Blackburn said in a statement that "The key to understanding the HIPAA and consent violations that we've referred to HHS is that there's a business contract between StemExpress and the abortion clinics under which both sides make a profit from the baby body parts inside the young woman's womb."
"The contract changes the way both entities view the young woman: her baby is now a profit-center," she added. "This betrayal of a young woman's trust should disgust us all. It takes financial advantage, obtains consent through coercion, and deceives the woman, all in violation of federal privacy laws."
The House authorized the Select Panel to investigate allegations that Planned Parenthood, the nation's largest abortion provider, is selling aborted fetal body parts to researchers for profit. The allegations were raised by a series of undercover videos of Planned Parenthood executives that appeared to show them negotiating the price of fetal body parts "per specimen."
Trafficking human body parts – including those of the unborn - is a felony in the United States. Spokespersons for Planned Parenthood have denied making a profit from illegal transactions and announced it will no longer accept "reimbursement" for donations of body parts to researchers.
David Daleiden, the founder of the Center for Medical Progress and the filmmaker behind the undercover videos, said in a statement that "Stem Express paid Planned Parenthood the break the law."
"The documents released today by the Select Investigative Panel show StemExpress and the biggest Planned Parenthood affiliate in the country engaged in a five-year-long scheme to profit off aborted baby body parts using unprotected confidential patient information and disregarding normal patient protections, in direct violation of HIPAA and other federal laws," Daleiden said. "Now we know why Planned Parenthood and their allies have fought so hard to oppose any scrutiny of their barbaric aborted baby body parts business: the violations in Planned Parenthood and StemExpress' illegal baby body parts trade goes far deeper than anyone ever realized."
"CMP's videos only scratched the surface of the systematic profiteering off the private health information and baby body parts from pregnant women that Planned Parenthood and their business partners like StemExpress relentlessly pursued," he continued. "Elected officials at all levels must now act immediately to hold lawless entities like StemExpress and Planned Parenthood accountable for their atrocities against humanity."
Congressional Democrats and Planned Parenthood have asked House Speaker Paul Ryan (R-Wis.) to disband the panel. One hundred and eighty one House Democrats wrote a letter to Ryan in which they argued that the panel "lacks credible evidence" to continue its investigation.
.@SpeakerRyan can't "turn a blind eye to the serious risks presented by" his Select Panel targeting PP. https://t.co/I7Zc7KcoOf #StandWithPP

— Planned Parenthood Action (@Planned Parenthood Action) 1464729544.0
"[T]he Chair and majority staff continue to harass individuals, researchers, clinics, and health care facilities, issuing a total of 35 subpoenas so far, often without reaching out to the subject of the subpoena to ask for voluntary compliance first or without giving subjects sufficient time to comply," they wrote. "Congress simply has no business 'prosecuting' these unfounded allegations."
AshLee Strong, a spokeswoman for Ryan, told the Washington Post that "Speaker Ryan supports the Select Committee's continued efforts to protect infant lives."
In a statement provided to TheBlaze, a spokesperson for the Select Investigative Panel's Democratic minority said:
"The latest leak from Chair Blackburn's runaway investigation is further evidence that this Panel should be brought to an end. In their letters – given to FOX News before they were even sent – Republicans again cite unverified "documents and testimony" from so called "informants" to allege wrongdoing by StemExpress, the company targeted by anti-abortion extremists in their fraudulent videos and their Republican allies in this so-called "investigation." StemExpress offered to appear and answer the Panel's questions months ago, but Republicans have refused to take them up on that offer lest they lose their last excuse for continuing this unjustified witch hunt. This latest gambit only adds to the long list of abuses Ranking Member Schakowsky exposed in a speech on the House floor last week."
Blackburn told Fox News she is using her subpoena power to fully investigate the matter.
Watch below:
This post has been updated to include a response from the Select Panel's minority.
—
Follow Kate Scanlon (@kgscanlon) on Twitter