Matt Erickson is "basically John F. Kennedy" — or so he said.
Erickson, a Donald Trump volunteer coordinator and spokesman for Minnesotans for Trump, officially launched his campaign for congress in Minnesota's 2nd Congressional District this week with a very Trump-esque speech.
"We have to build America first. Why are the politicians not saying that? Answer: They are stupid, lackluster cowards," Erickson said. "We need real leaders with brains, energy and guts."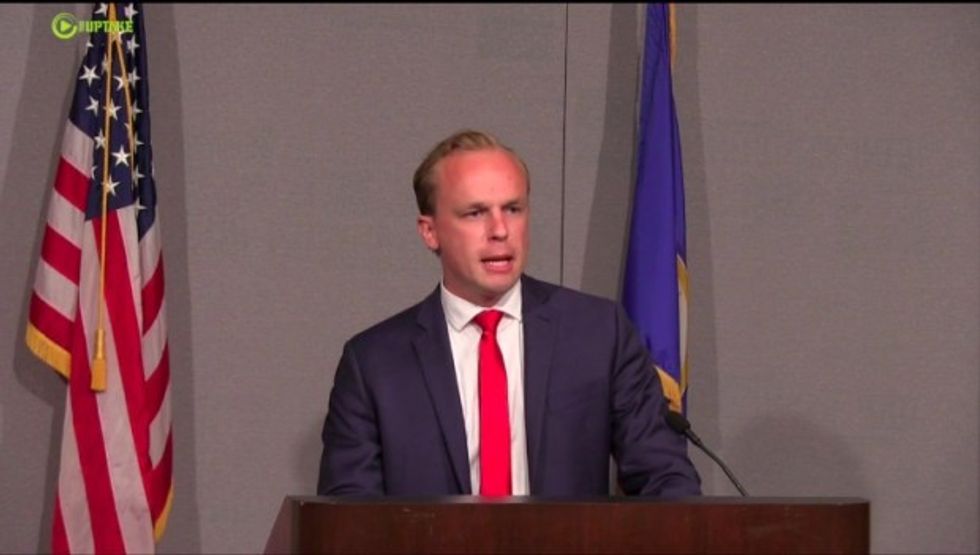 Matt Erickson (Image source: YouTube)
"I am basically John F. Kennedy. I look in the mirror and I ask myself each morning, 'Matthew David Erickson, what can you do for your country today?' And the answer comes back, 'I will do my goll-danged darnedest,'" Erickson continued.
Like Trump, Erickson also advocated for building a wall along the U.S.-Mexico border to keep out "drugs" and "terrorists."
"We spend billions protecting the borders of Muslim countries and we let our own fail," he said. "Elect Matt Erickson, and we will build the wall. We will finish the job and destroy ISIS. We will bring our taxes home and build America first. I am not running because it's easy; I am running because it's hard."
Between making references to himself in the third-person — as Trump often does — Erickson was sure to praise the GOP nominee.
"Real trailblazers like Donald Trump are the leaders that we're looking for," Erickson said. "Ladies and gentlemen, the American dream is dead."
Erickson said that he understood the struggles of everyday Americans because he's been homeless and has paid his own employees before he has paid himself.
The seat Erickson is seeking is being vacated by Rep. John Kline (R) who announced his retirement in September. Though Kline has already endorsed businesswoman Darlene Miller as his replacement, Erickson said that he expected Kline to change his mind.
The district's Republican Party is backing former talk radio show host Jason Lewis.
The GOP primary will be held Aug. 9.
(H/T: UpTake)
—
Follow Kaitlyn Schallhorn (@K_Schallhorn) on Twitter