A series of videos uploaded to YouTube show a group of Christian street preachers reportedly being kicked out of Saturday's Reason Rally by officers who are identified as U.S. Park Service members.
While the authorities are seen repeatedly asking the street preachers — who were purportedly vocally sharing their beliefs before the start of the atheist event at the Lincoln Memorial — to move locations, the men pushed back, claiming that they had a Constitutional right to be there.
"You will be in hell, then thrown into the lake of fire," one of the preachers said allowed, aiming his message at atheists before the police approached. "We're sick of all you phony atheists. You're a dime a dozen."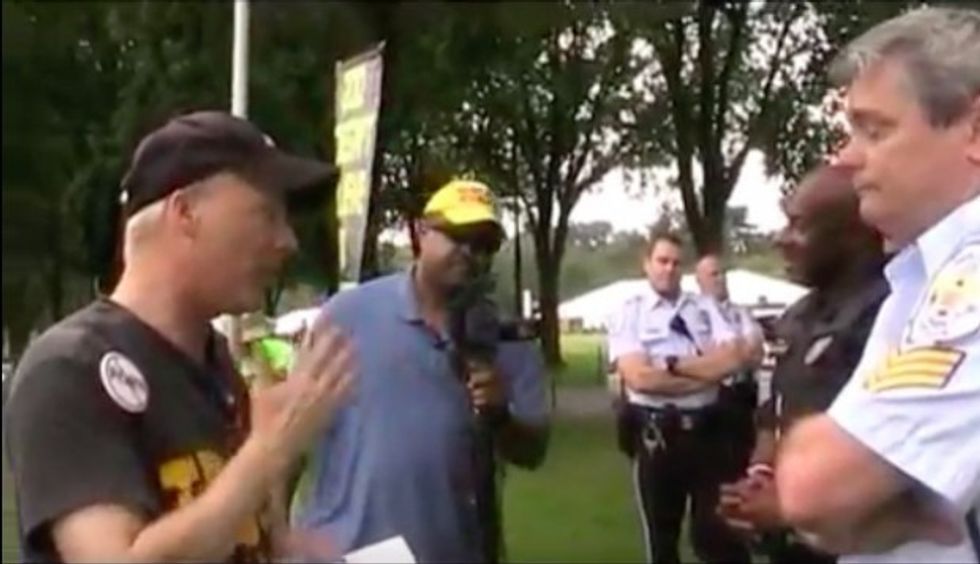 Christian street preachers clash with authorities (YouTube/Buddy Fisher)
At around the 9:00-minute mark in the first video, which was uploaded to an account by the name of "Buddy Fisher," an officer approached and proclaimed, "We're going to move you out, because we've already got complaints," before proceeding to give alternative options for locations at which the Christian group could re-gather.
But the preachers argued that they were accompanied by under 25 people and, thus, did not need a permit, saying that their gathering fell under a free-speech exemption. The cops, though, weren't buying into that explanation.
"Right now you have to move because I'm telling you that you're interfering with [their] permit," the cop said of the Reason Rally organizers.
But one of the preachers shot back, "You are going against the Constitution here in our nation's capitol."
The street preacher's argument was that atheists had secured a non-exclusive permit and that the Reason Rally was open to the entire public. With that in mind, he said that he and his group had every right to be there. The debate, it seems, was over whether the Christians, who did not have a permit, were creating a disturbance.
"This is everything that America was founded on!" the pastor continued. "Freedom of speech and freedom of religion."
Watch the clash unfold at the 9:00-mark below:
In a second video, the pastors are seen continuing to fight back against authorities' repeated requests that they move.
"You're the only people who have hassled us today," one of the pastors tells the cops. "Rigorous debate is what this nation was founded on!"
A description on the second video reads: "Part 2 of unlawfully being removed from the Reason Rally 2016 in Washington DC. Officers Burnett and White unlawfully remove Christians from an event that is free and open to the public being held by a group of atheists with a non-exclusive permit. Their permit allows them to set up the stage, amplifiers, etc, but does not give them the authority to remove us from public property. Atheists are cowards and the police ignore the law."
Watch it below:
This wasn't the first free-speech dispute issue to emerge surrounding the Reason Rally. As TheBlaze previously reported, another evangelist named Ray Comfort announced before the Reason Rally that he would essentially crash the event to preach and hand out $25,000 in Subway gift cards as well as copies of his new book about atheism, but he had to change plans after police issued a warning.
"Our plan was to give away 5,000 copies of my new book on atheism, and $25,000 worth of Subway gift cards — as a small token of Christin love," Comfort told TheBlaze in an email interview last week. "Our problem was that a thousand Christians registered to help us."
He continued, "The police said that the only way we could gather a thousand Christians in the Nation Mall was on the condition that we didn't approach atheists, saying that we would be arrested if we did."
So, Comfort, head of Living Waters and Way of the Master ministries, essentially found a way around the permit process.
He cancelled the invitation to the 1,000 Christians who volunteered to come and help. Then, he and his small film crew decided to hold a smaller event during the Reason Rally — and, considering their size, they no longer needed a permit to gather; in essence, they were no longer seen by police as organizing an official "protest" comprised of more than 1,000 people.
Comfort said that he understands why police made the decision, calling it "a legitimate concern because of the very real threat of terrorism."
"They don't want to have officers policing clashes between a 1,000 Christians and an estimated 10,000 atheists," he told TheBlaze. "Not that we believe that will happen."
--
Follow the author of this story on Twitter and Facebook and check out his new book "The Armageddon Code: One Journalist's Quest for End-Times Answers":