Presumptive Republican presidential nominee Donald Trump said Tuesday that his controversial comments regarding a federal judge's Mexican heritage were "misconstrued."
In what he said would be the final time, Trump addressed the controversy surrounding his now-defunct Trump University — in particular, his rhetoric regarding U.S. District Judge Gonzalo Curiel who was born in Indiana to Mexican immigrant parents. Trump has repeatedly contended that Curiel has an "absolute conflict" as he presides over a case regarding Trump University.
"It is unfortunate that my comments have been misconstrued as a categorical attack against people of Mexican heritage," Trump said in a statement released by his campaign. "I am friends with and employ thousands of people of Mexican and Hispanic descent."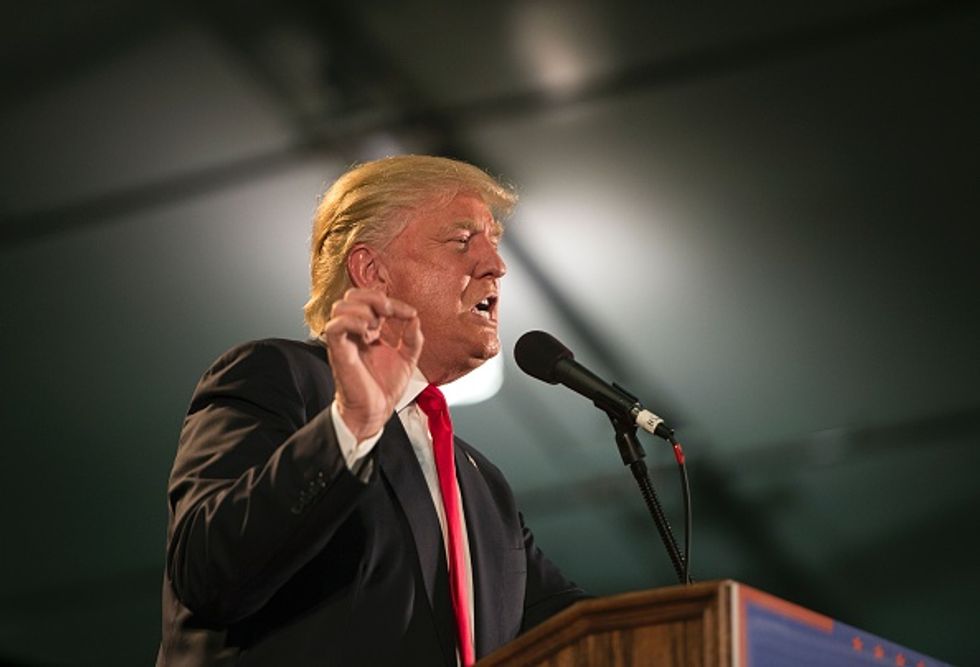 Republican presidential candidate Donald Trump speaks during a rally at the San Jose Convention Center in San Jose, California. (Getty Images/Josh Edelson)
"I do not feel that one's heritage makes them incapable of being impartial, but, based on the rulings that I have received in the Trump University civil case, I feel justified in questioning whether I am receiving a fair trial," the Manhattan businessman added.
Trump continued in his statement:
Normally, legal issues in a civil case would be heard in a neutral environment. However, given my unique circumstances as nominee of the Republican Party and the core issues of my campaign that focus on illegal immigration, jobs and unfair trade, I have concerns as to my ability to receive a fair trial.

I am fighting hard to bring jobs back to the United States. Many companies — like Ford, General Motors, Nabisco, Carrier — are moving production to Mexico. Drugs and illegal immigrants are also pouring across our border. This is bad for all Americans, regardless of their heritage.

Due to what I believe are unfair and mistaken rulings in this case and the Judge's reported associations with certain professional organizations, questions were raised regarding the Obama appointed Judge's impartiality. It is a fair question. I hope it is not the case.
Trump also doubled-down on the successes of Trump U, which offered trainings on real estate, and sought to discredit the accusations of some of the plaintiffs in the lawsuit. While plaintiffs and former students have contended that the school was at times corrupt and misleading, his statement included the link to website containing "literally thousands of positive surveys" as well.
The real estate magnate said that, aside from Tuesday's lengthy statement, he does not "intend" to comment further on the litigations.
"With all of the thousands of people who have given the courses such high marks and accolades, we will win this case," Trump said.
Trump's rhetoric regarding Curiel — especially his call for the judge to recuse himself — has caused great consternation among the Republican Party as efforts to help the GOP unite behind the controversial candidate are underway. Several prominent Republicans have denounced Trump's discourse regarding Curiel, including House Speaker Paul Ryan (R-Wis.).
"Claiming a person can't do their job because of their race is sort of like the textbook definition of a racist comment," Ryan told reporters Tuesday. "I think that should be absolutely disavowed. It's absolutely unacceptable."
Republican National Committee Chairman Reince Priebus also reportedly spoke with Trump regarding his comments on the judge. 
—
Follow Kaitlyn Schallhorn (@K_Schallhorn) on Twitter