A 22-year-old singer and former contestant on television's "The Voice" had just given a concert in Orlando when she was shot and killed by a man she didn't appear to know, authorities say.
Orlando Police Chief John Mina said the 27-year-old man apparently traveled from another Florida city to the venue where Christina Grimmie was performing Friday night armed with two guns and a knife and intending to attack her. The man, whose name wasn't immediately released, shot the Evesham Township, N.J., native as she signed autographs for fans. He then shot and killed himself.
Here's a look at other notable incidents in which famous people were attacked by someone they didn't know:
In this Feb. 9, 1964 file photo, Ed Sullivan, center, stands with The Beatles, from left, Ringo Starr, George Harrison, John Lennon, and Paul McCartney, during a rehearsal for the British group's first American appearance, on the "Ed Sullivan Show," in New York. CBS is planning a two-hour special on Feb. 9, 2014, to mark the 50th anniversary of the Beatles' groundbreaking first appearance on "The Ed Sullivan Show." (AP Photo, File)
-John Lennon: The former Beatle was shot to death outside his New York City apartment building in 1980 in a crime that shocked the world. Mark David Chapman, who's serving a sentence of 20 years to life for the killing, said he shot the music icon because he wanted to kill a famous person. During a 2015 parole hearing, Chapman said he considered shooting Johnny Carson or Elizabeth Taylor but opted for Lennon because his apartment was more accessible.
-Mayu Tomita: Police in Tokyo arrested a 27-year-old man last month after they said he stabbed pop star Mayu Tomita about 20 times near a concert site. Tomita had previously reported to police that Tomohiro Iwazaki was harassing her on social media. Authorities said he admitted he planned to kill the 20-year-old because he was angry she had returned a gift he gave her. Tomita survived but remains hospitalized.
-Gianni Versace: Versace, a famed fashion designer, was outside his Miami mansion in July 1997 when he was gunned down by Andrew Cunanan. The suspected serial killer eluded authorities for almost three months before the 27-year-old shot himself to death in a houseboat a few miles from Versace's home.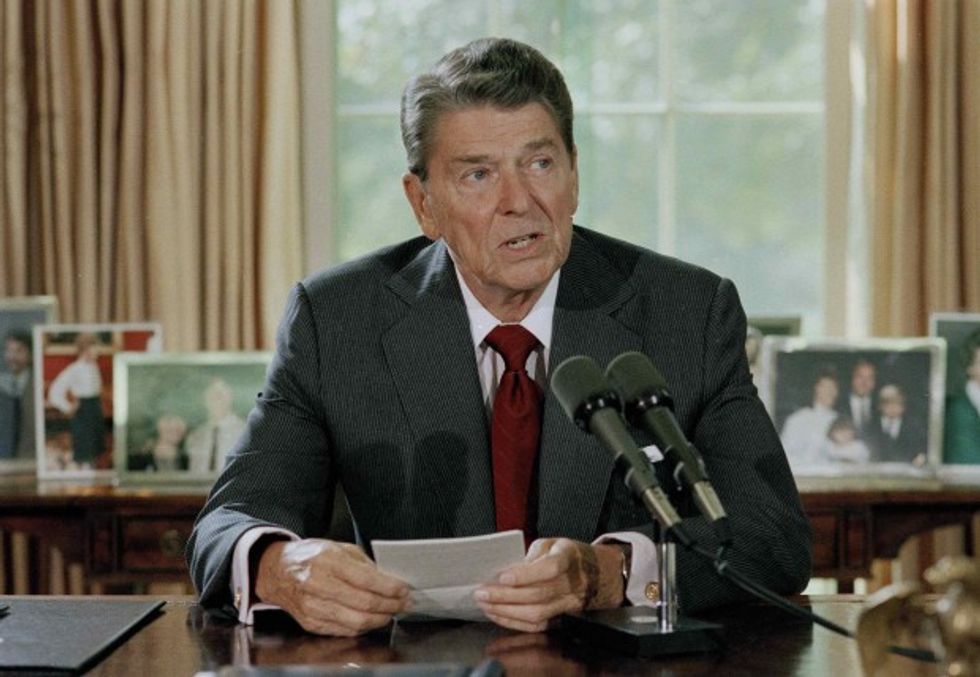 President Ronald Reagan announces economic sanctions against the white-ruled government of South Africa in a nationally broadcast speech from the Oval Office in Washington Sept. 9, 1985. (AP Photo/J. Scott Applewhite)
-Ronald Reagan: Reagan was leaving a Washington, D.C. hotel in 1981 when John Hinckley Jr., who had been waiting outside, began shooting at almost point-blank range. He hit Reagan, his press secretary, a Secret Service agent and a local police officer. Hinckley said he was trying to impress actress Jodie Foster, whom he had become obsessed with and stalked. Hinckley was found not guilty by reason of insanity and sentenced to a mental hospital.
-Sharon Tate: The actress and pregnant wife of film director Roman Polanski was among five people shot or stabbed to death at her home in Los Angeles in 1969. Cult leader Charles Manson and his followers were later convicted of the killings. They went to the home because of a disagreement Manson had with a producer who used to live there.
-Rebecca Shaeffer: An obsessed fan shot Shaeffer, a 21-year-old actress and model, at the door of her Los Angeles apartment in 1989. Robert Bardo had written letters and tried to meet the star of the TV show "My Sister Sam" at the studio where she worked. He's serving a life sentence. Shaeffer's death is often credited for sparking tougher anti-stalking laws.
-Monica Seles: The 19-year-old was the top women's tennis player in the world when a German man and obsessed fan of fellow player Steffi Graf stabbed Seles in the back during a match in Hamburg in 1993. Gunter Parche, 38, said he was looking to help Graf reclaim her No. 1 ranking by taking Seles out of competition for a while. A court gave him a two-year suspended sentence, citing his mental health problems.
-Theresa Saldana: The "Raging Bull" actress survived a nearly fatal 1982 knife attack by a man who approached her outside her West Hollywood apartment. Arthur Jackson had seen Saldana in other films; he wrote in a diary that he was on a "divine mission" to send Saldana into "eternity." Jackson served 15 years in prison and was then extradited to Britain for another crime.
---