A Texas judge has dismissed the misdemeanor charge against David Daleiden, founder of the Center for Medical Progress whose undercover videos appeared to show Planned Parenthood executives negotiating the price of aborted fetal body parts.
In January, a Texas grand jury indicted Daleiden for the purchase and sale of human organs for his role in the release of the videos that included "per specimen" discussions.
Pleased to announce the first sham indictment against me in Houston, TX has been dismissed: https://t.co/BwD4byYp5W @PPGulfCoast @PPact #QED

— David Daleiden (@daviddaleiden) June 14, 2016
Trafficking human body parts — including those of aborted babies — is illegal in the United States. Spokespersons for Planned Parenthood have denied that the organization is profiting from illegal transactions and have announced that it will no longer accept "reimbursement" for donations of body parts to researchers.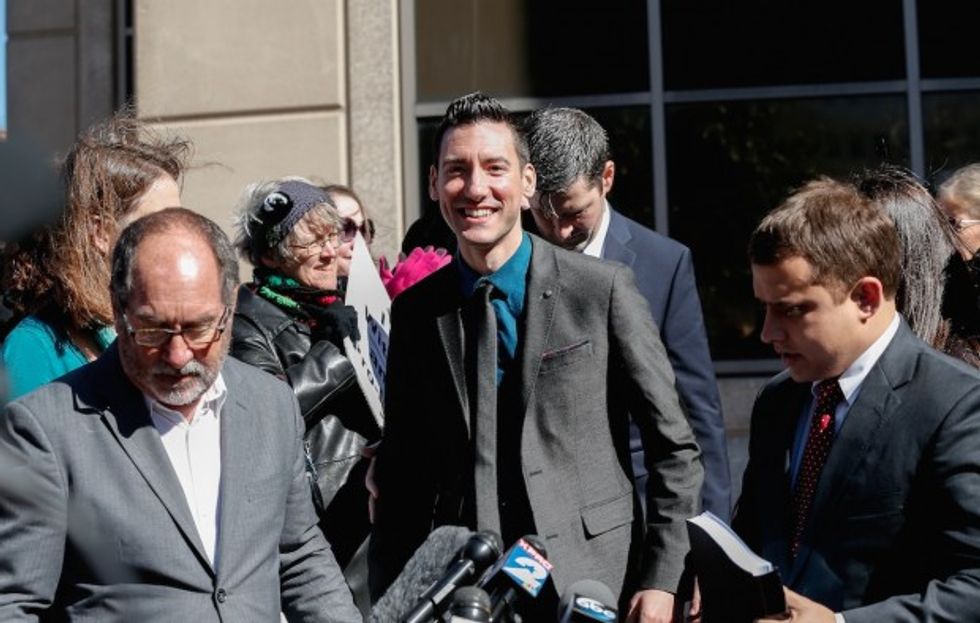 David Daleiden speaks to supporters outside the Harris County Criminal Courthouse in Houston Feb. 4. (AP Photo/Bob Levey)
In a statement, Daleiden said that the judge's "swift dismissal of the bogus charge" against him of trafficking human organs "is the latest confirmation that the indictments from a runaway grand jury in Houston were a politically motivated sham all along." The statement also said:
In finding that the indictment was void on its face, Judge Bull's ruling directly contradicts the District Attorney's argument that the indictment was valid despite the DA's collusion with Planned Parenthood. The dismissal of the first indictment today sends a strong message to Planned Parenthood and their political cronies that colluding to suppress the First Amendment rights of citizen journalists will never work. The Center for Medical Progress follows all applicable laws in the course of its investigative journalism work and as more details about Planned Parenthood's contracts for aborted baby parts come to light, it's clear that Planned Parenthood and their business partners like StemExpress are the ones who are guilty of trafficking in human body parts.
Peter Breen, special counsel for the Thomas More Society, who is representing Daleiden, said in a statement: "The Harris County prosecutors were in such a rush to criminalize David Daleiden that they did not properly obtain grand jury approval of each of the elements of the charged misdemeanor."
"All charges against Daleiden and his investigators should be dismissed, based on the evidence that Harris County District Attorney's prosecutors colluded with Planned Parenthood to secure these indictments," Breen said. "Planned Parenthood's illegitimate aim is clear: it hopes to turn attention away from the abortion industry's baby parts trafficking, by instead attacking the man who exposed its illegal practices. The Harris County District Attorney's office should reject that aim and prosecute Planned Parenthood, not David Daleiden and his investigators."
A felony charge against Daleiden of tampering with government documents — including the use of a fake ID — is still pending before a different judge.
The Harris County District Attorney's office told KHOU-TV that they will not appeal the judge's decision and "will instead focus on prosecuting the felony charge." A hearing has been scheduled for July.
A spokesperson for Planned Parenthood did not immediately return TheBlaze's request for comment.
The allegations that Planned Parenthood is trafficking aborted fetal body parts are under congressional investigation.
—
Follow Kate Scanlon (@kgscanlon) on Twitter and Facebook.