The Department of Homeland Security issued an updated terror alert bulletin Wednesday highlighting the threat level the United States is currently facing.
The new bulletin mentions the agency's specific concern over "homegrown violent extremists who could strike with little or no notice," citing terror attacks in San Bernardino, Paris, Brussels and Orlando.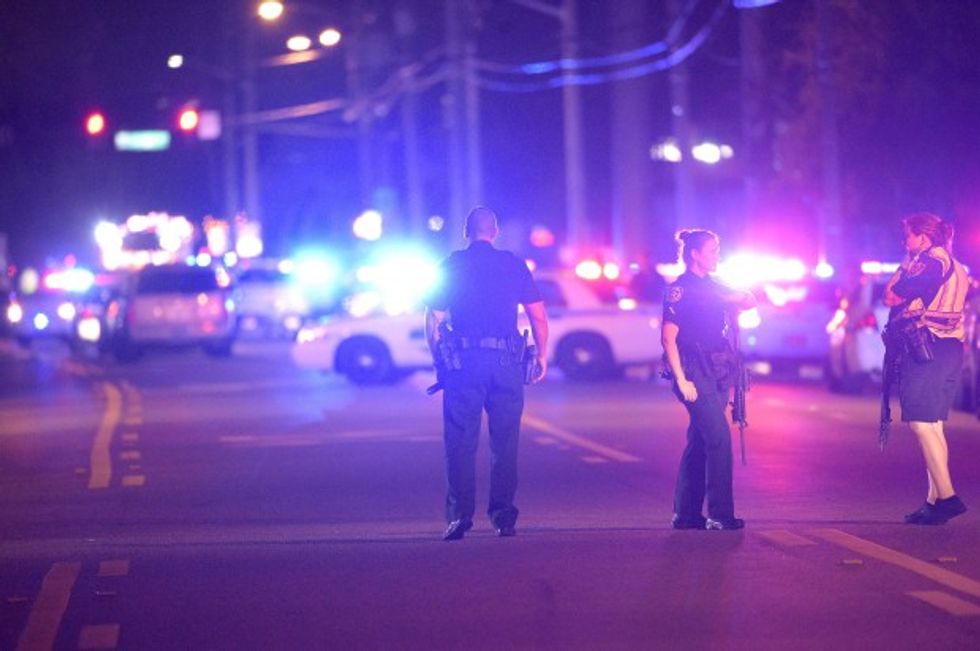 Police officers stand guard down the street from the scene of the terror attack that resulted in 49 fatalities at Orlando's Pulse nightclub Sunday. (AP Photo/Phelan M. Ebenhack)
"Terrorist use of the internet to inspire individuals to violence or join their ranks remains a major source of concern," the DHS warns.
The gunman responsible for Sunday's terror attack on a gay nightclub in Orlando is believed to have corresponded with Islamic extremists over the internet. Omar Mateen, 29, pledged allegiance to the Islamic State before shooting more than 100 people, killing 49.
"The FBI is investigating potential terrorism-related activities associated with this broad threat throughout the United States," the DHS says, adding that "numerous law enforcement actions" on federal, state and local levels are being taken to address this "evolving threat."
Moving forward, the DHS notes that "the public may observe an increased law enforcement and security presence across communities, in public places and at events," including, "additional restrictions and searches on bags, more K-9 teams and the use of screening technologies."
The bulletin will be effective Thursday, the same day a bulletin issued in December expires, and will remain in effect until Nov. 15, 2016.
Since the DHS issued the last terror bulletin in December, its "concerns that violent extremists could be inspired to conduct attacks inside the US have not diminished." The new bulletin notes, however, that at this time, the department does not have any "specific" or "credible" intelligence about plots to attack the country: "We urge Americans to continue to travel, attend public events, and freely associate with others but remain vigilant and aware of surroundings."