It's called "the most important position you've never heard of," and Heidi Ganahl is gunning for it.
A business owner and mother of four, Ganahl, a Republican, is actively campaigning for one of the at-large University of Colorado Board of Regents seats.
Speaking to TheBlaze by phone Tuesday afternoon, Ganahl's positivity and bubbly personality was nearly tangible. Despite the hardships she's faced in her life over the past two decades, Ganahl said she's ready for another challenge — taking part of an entity that contributes billions of dollars to Colorado's economy.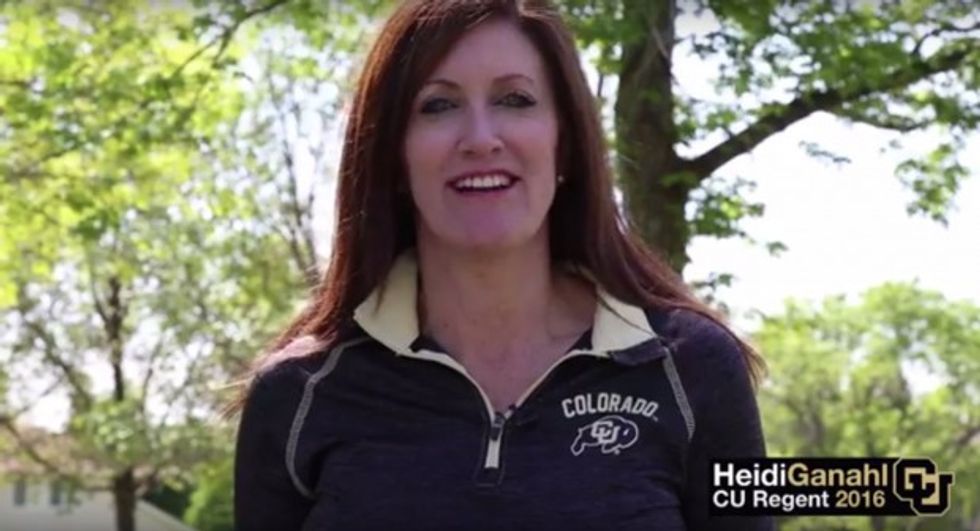 Image source: YouTube
"They call it 'the most important position you've never heard of in Colorado,'" Ganahl said. "We're one of four states that elect our regents so we have to actually run a campaign, and it's a political process rather than being appointed by the governor."
While nine regents are responsible for the overall CU System, Ganahl added that the university system is the third-largest employer in the state. But for Ganahl, free speech, safety and college affordability are the issues that she puts at the forefront when it comes to her potential new job.
"My number one key platform is free speech and protecting free speech," Ganahl told TheBlaze. "I think safe zones are funk. We need to keep universities very spicy and open to debate, and kids should be able to hear both sides of a story and make their own decisions about what they think is right. They shouldn't be protected or kept safe from opinions that might hurt their feelings or that are hard. We've got to have a really open, honest discussion in this country about lots of different issues."
Even though Ganahl said she doesn't believe college students should be "protected" from differing opinions, she does want to work with CU's regents to come up with better plans to help keep students safe from heinous acts such as sexual assaults or terrorist attacks, especially in the wake of the Orlando massacre over the weekend.
"I think we absolutely need to be very aggressive about actively protecting our campuses and making sure our students are safe and we're doing all we can to protect them from active shooters, from terrorism and also campus sexual assault," Ganahl, a CU graduate, said. "It's going to take a lot of collaboration between law enforcement and the administration and an open and honest dialogue about the threats that we face, not just pretending we're doing all we can and that's good enough.
"We've also got to get Homeland Security and other bigger agencies involved to make sure that we are looking at every single angle we can to protect our students," she continued. "Colleges unfortunately are safe spaces in and of themselves and that makes them targets."
Ganahl added that "colleges aren't doing a good job" of handling campus sexual assaults — although she contended that it's "not their job, that's not what they're good at."
"It's going to take a partnership between looking at the student conduct code and helping students to feel really comfortable reporting and talking about it when it does happen, but on the other side the district attorneys' offices in the law enforcement agency have to start prosecuting these things and holding people accountable," Ganahl said, referencing the convicted Stanford swimmer who ignited a national firestorm after he received a sentence of only six months in country jail.
Despite the lack of attention a regents race might receive, candidates will fair proportionally to how their parties are perceived by voters in any particular year, the Daily Camera reported.
"It's true, no one knows who the regents are, no one knows what the regents do and most people don't care," Stephen Ludwig, a Democratic at-large regent, said. "When it comes to the regents race, they will check the box next to the party they affiliate with, or if they're upset with the political status quo, they will vote for a minor party candidate just as sort of a protest vote."
But Ganahl isn't letting any lack of attention for the regents race hinder her. Instead, she has released multiple campaign ads — featuring puppies, no less.
Approximately 20 years ago, Ganahl tragically lost her first husband. What was supposed to be a birthday gift, Bion was killed when an old antique stunt plane he was in crashed. And with the death of her husband, the death of their shared dream of Camp Bow Wow seemed imminent.
"My life changed pretty dramatically at that point and the business plan got put on a back burner," Ganahl said. "About six years later, my little brother came to me and said, 'You're kind of a mess. You've lost your passion. Let's dig up the old business plan for Camp Bow Wow and see if we can't get that going and honor Bion and fulfill the dream you guys had of doing this business.'"
Since then — December 2000, to be exact — there are more than 130 Camp Bow Wow doggy day cares internationally, making it the country's largest pet care franchise.
"Growing a business, any business, comes with all kinds of challenges," she said. "I made it through my best friend embezzling from me, I had to fire family and friends, I had to build a team from scratch, with no money from the very beginning."
"I've had to deal with a lot of challenges and become a strong leader and really learn a lot about how to solve really tough issues and get people through rough times," Ganahl added. "I think the real life experience that my opponent doesn't have and a lot of people who run for politics or run for office don't have is what I bring to the table."
—
Follow Kaitlyn Schallhorn (@K_Schallhorn) on Twitter