During his weekly press conference Thursday, House Speaker Paul Ryan (R-Wis.) criticized House Democrats for ignoring legislative process and using their gun control sit-in "stunt" to fundraise.
Ryan said that all the Democrats would need to do to get a vote on their proposed legislation is to get 218 signatures from members on a petition, as specified in House rules.
"That's how the House works," Ryan said. "It's a well-known process. But they're not doing that."
Instead of following the established rules of the House, Ryan said, the Democrats are "trying to get on TV" and to fundraise.
"They are sending out fundraising solicitations like this one," Ryan said, holding up a solicitation from the Democratic Congressional Campaign Committee.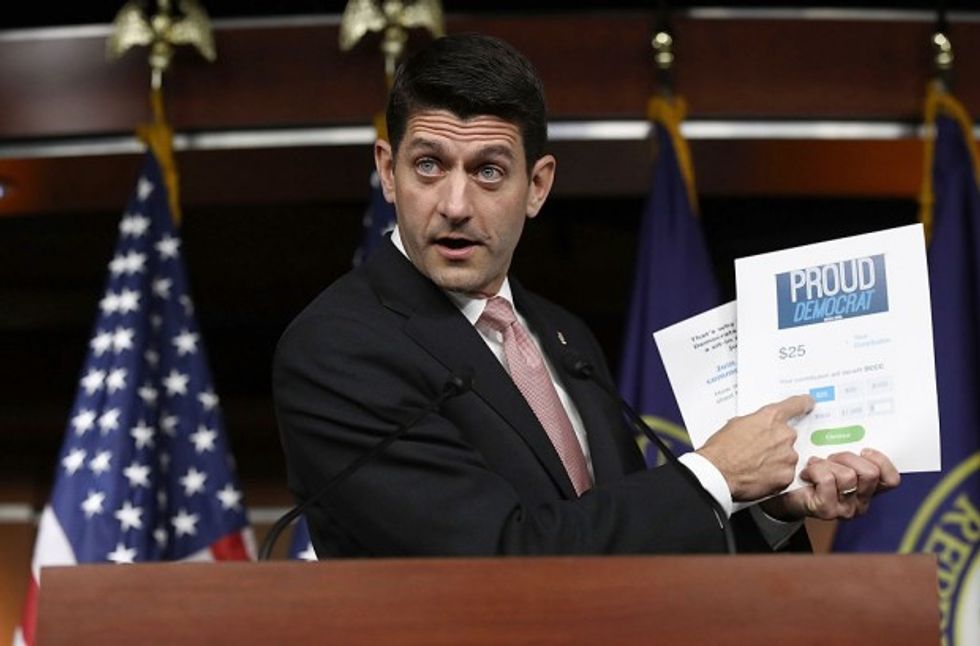 House Speaker Paul Ryan (R-Wis.) holds up fundraising literature produced by House Democrats at the U.S. Capitol Thursday. (Win McNamee/Getty Images)
"If this isn't a political stunt, then why are they trying to raise money off this, off of a tragedy?" Ryan said.
Ryan said the Democrats' sit-in was only a "stunt" because they know they don't have the support needed to pass the legislation, noting that similar legislation "already failed in the Senate."
"This bill couldn't even get 50 votes in the United States Senate, let alone 60," Ryan said, adding that the legislation failed because "in this country we do not take away people's constitutional rights without due process."
"We are not going to take away the constitutional rights of law-abiding Americans," Ryan said.
Ryan argued that "terrorism is the issue," and combatting terrorism will remain the House's focus.
Watch below:
—
Follow Kate Scanlon (@kgscanlon) on Twitter and Facebook.