It's that time again. "Shark Week" — the annual television event hosted by the Discovery Channel and featuring an entire week dedicated exclusively to shark-related shows and documentaries — is back.
Something viewers can always expect to see during "Shark Week" is a collection of real-life stories about people who survived shark attacks. But this year, two survivors decided to add a new twist: They're heading back into shark-infested waters to face the menaces head-on for a special called "Sharks Among Us," which airs Monday at 10 p.m. ET on Discovery..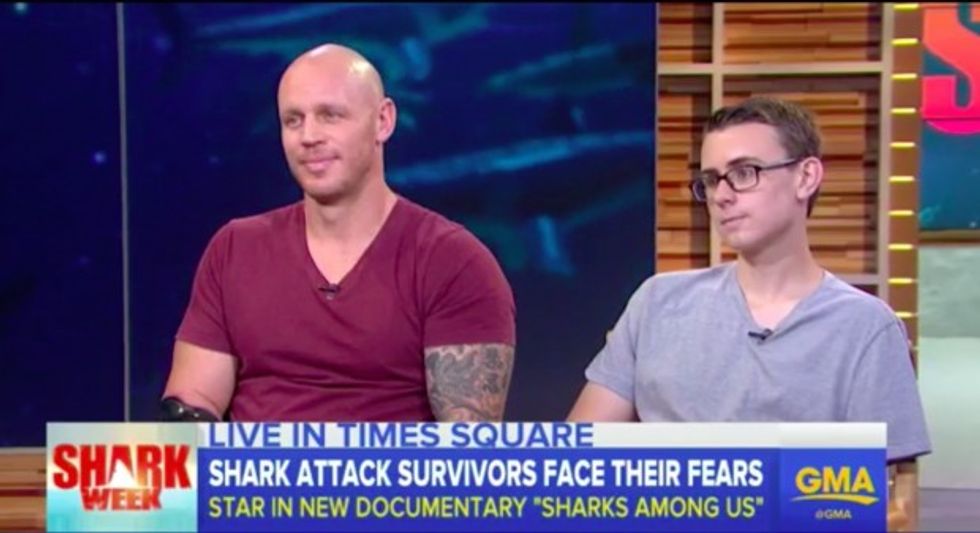 Image via Twitter/@GMA
Hunter Treschl, 16, lost his arm last year while wading in waist-deep water. His was one of several attacks that occurred last summer off the coast of North Carolina.
Paul de Gelder, a former Australian Navy diver, lost his right arm and leg when a shark attacked him during a military exercise.
Treschl and de Gelder first met one month after the teen lost his arm while vacationing with his family. De Gelder visited Treschel in Colorado, and the two talked about their life-changing encounters.
De Gelder, who now works as Discovery Channel's marine conservationist, invited Treschl to join him for the chilling experience just six months after the teenager had lost his arm, ABC reported.
"Initially it wasn't something I was too keen on," Treschl, a Colorado native, said Monday on "Good Morning America." "But ... I started thinking about it as this is not so much getting back in the water with the shark that bit my arm off but more so it's like this great experience that not everybody gets to have."
Treschl and de Gelder, who refer to the traumatic events that led to their injuries as "shark encounters" instead of "attacks," explained that their dive with sharks isn't just an exercise in overcoming their fears — it's part of an ongoing research project being conducted by Dr. Craig O'Connell on the use of magnets to repel sharks.
"I don't blame the shark [for the attack], and having had the experience to work with amazing people like Craig, you learn so much about the important role they play in the oceans and you learn to appreciate them more and more so I'm all for protecting the sharks," de Gelder said Monday.
Treschl added that though the idea was "kind of scary at first," as one would expect, "after that I really began to appreciate like, wow, these are some really cool animals and getting to see them up close is really awesome."
WATCH: Shark encounter survivors face their fears and star in "Shark Among Us," a new documentary. #SharkWeekhttps://t.co/Num6xxpd6f

— Good Morning America (@GMA) June 27, 2016