The identity of the Dallas police officer executed by gunman Micah Johnson after heroically charging him during last Thursday's ambush has been confirmed, the Daily Mail reported Tuesday.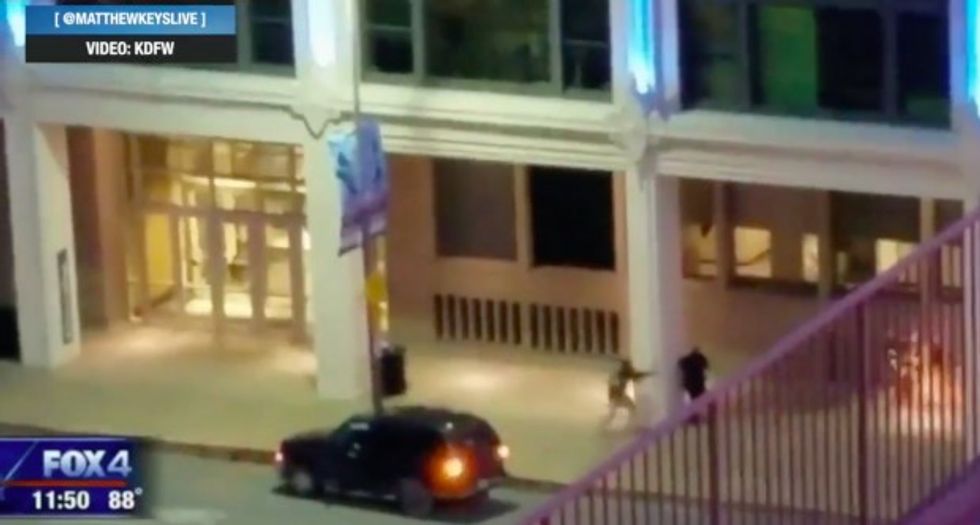 Image source: KDFW-TV
DART police officer Brent Thompson, 43, was caught on camera running toward Johnson in an effort to detain him before he's shot multiple times — and the exchange was broadcasted on KDFW-TV.
Thompson's younger brother, 41-year old Darrell Thompson, spoke exclusively to the Daily Mail Tuesday outside a family member's home in Corsicana, Texas. Darrell Thompson said his brother died "a hero."
"He was a hero and we are mourning him," he said. "All the cops who died are heroes."
Darrell Thompson lives near Houston in the small town of Crosby, Texas, with his wife Jennifer and their children, the Daily Mail reported.
"We [the family] are going to get together and plan when to talk about what happened to him," he added.
For now, though, the family has requested privacy.
"Our parents are very upset, as you can probably imagine," Darrell Thompson explained.
DART officer Brent Thompson, 43, "was recently married in the last two weeks." https://t.co/vGpCsLoK4h pic.twitter.com/MLprsDFDxI

— TheBlaze (@theblaze) July 8, 2016
Officer Thompson, who had just married a fellow DART officer, lived close to his parents' home in Corsicana. His mother Paulette, 68, and father Robert, 69, were still too upset to speak to reporters Tuesday.
Thompson, a former Marine, spent much of his career as a police officer in Corsicana before transferring to Dallas, about 40 minutes away. He was the only DART officer to die in Thursday's massacre. According to the Daily Mail, he had been assigned to the downtown area, and unlike the other four officers killed, he was not part of the policing operation for that night's Black Lives Matter demonstration.
The other officers slain by Johnson were Lorne Ahrens, 48, Michael Krol, 40, Michael Smith, 55, and Patrick Zamarripa, 32.
Johnson, a veteran, was cornered by authorities and eventually killed by a SWAT team remote-controlled bomb after refusing to negotiate.
Since the tragedy last week, Johnson's parents have also broken their silence. "We hate what he did," the told TheBlaze in an exclusive interview.