Many — if not most — know Donald Trump as the hard-nosed businessman who fought his way through a bruising Republican presidential primary, but the candidate's wife, Melania, sought to introduce a gentler Trump during her keynote speech at the Republican National Convention Monday night.
"He is tough when he has to be, but he is also kind and fair and caring," Melania Trump said of her husband, who introduced her. "This kindness is not always noted, but it is there for all to see. That is one reason I fell in love with him to begin with."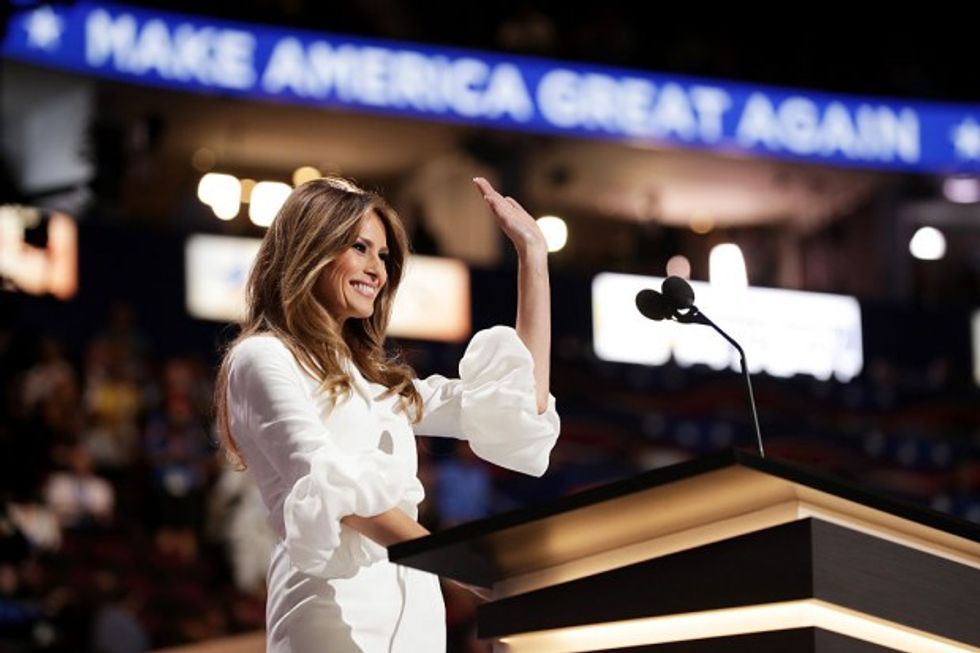 Photo by Chip Somodevilla/Getty Images
While the presumptive Republican nominee still seems to struggle to praise his former adversaries, Melania Trump said from the podium of the Quicken Loans Arena in Cleveland that the vanquished Republican candidates "deserve respect and gratitude from all of us."
She also offered a softer tone to some of Donald Trump's rhetoric on Muslims and immigration, saying the New York real estate developer "intends to represent all people" if he wins the presidency in November.
"Not just some of the people," Melania Trump, speaking in heavily-accented English, said. "That includes Christians and Jews and Muslims. It includes Hispanics and African-Americans and Asians and the poor and the middle class. Throughout his career, Donald has successfully worked with people of many faiths and with many nations."
Prior to her address Monday night in front of the Republican delegation, the 46-year-old former supermodel had only spoken on Donald Trump's behalf a handful of times. In the past, her remarks were very brief, but Monday's speech — delivered slowly and with a teleprompter — lasted around 10 minutes.
However, in her remarks about her childhood and the values instilled in her by her parents, it appeared Melania Trump's speechwriters may have lifted a paragraph almost directly from first lady Michelle Obama's 2008 National Democratic Convention speech.
"My parents impressed on me the value of that you work hard for what you want in life," Melania Trump said. "That your word is your bond and you do what you say and keep your promise. That you treat people with respect."
In 2008, Obama delivered similar remarks: "Barack and I were raised with so many of the same values: that you work hard for what you want in life; that your word is your bond and you do what you say you're going to do."
The two women also seemed to share the same message about passing the lessons they learned on to subsequent generations. Both Obama and Melania Trump noted that the "only limit" should be children's "dreams and your willingness to work for them."
CORRECTION: Melania stole a whole graph from Michelle's speech. #GOPConvention WATCH: https://t.co/8BCOwXAHSy https://t.co/zudpDznGng

— Jarrett Hill (@Jarrett Hill) 1468898800.0
For what it's worth, earlier on, Melania Trump claimed to have written the speech herself with "as little help as possible."
David Axelrod, former chief strategist to both of President Barack Obama's campaigns, said on CNN that the speechwriter who wrote Melania Trump's address is "grossly irresponsible" and "fundamentally stupid" for seemingly plagiarizing the remarks, adding that it is "unfair" to Melania Trump.
Also in the speech, Melania Trump talked about her love for the United States and her upbringing in an industrial town in then-communist Yugoslavia. She boasted about her sister Ines, their mother Amalia, an "elegant and hard-working mother," and their father Viktor, who "instilled in me a passion for business and travel."
"After living and working in Milan and Paris, I arrived in New York City 20 years ago, and I saw both the joys and the hardships of daily life," Melania Trump said of her career and moving to the United States, joining the crowd in applauding her declaration that becoming an American citizen was "the greatest privileged on planet Earth."
She then pivoted to what her role as first lady would be, should her husband win the White House in the fall.
"I will use that wonderful privilege to try to help people in our country who need it the most," she told the crowd of supporters, adding that she would focus specifically on advancing the causes of children and women — "one of the many causes dear to my heart."
Melania Trump is fluent in five languages and reportedly spent the weekend practicing her speech in New Jersey. Ultimately, she promised more of what many have seen since the first day of Donald Trump's iconic presidential campaign.
"It would not be a Trump contest without excitement and drama," she said.
Earlier in the day, former House Speaker Newt Gingrich, who was on Donald Trump's vice presidential short list, said the candidate's foreign-born wife is "living proof" he is not anti-immigrant.
Also during her speech, Melania Trump recognized the "amazing" Kansas Sen. Bob Dole, who ran two failed campaigns for the Republican presidential nomination in 1980 and 1988.
In a tribute to veterans, Melania Trump spotlights Bob Dole at #GOPConvention https://t.co/aA6QuP3FU3 #RNCinCLEhttps://t.co/PJFF8wYyo7

— CNN (@CNN) July 19, 2016
–
Follow the author of this story on Twitter: