ANSBACH, Germany (AP) — A spokesman for Germany's interior ministry says the man who detonated a bomb near a music festival, killing himself and wounding 12 others, had received two deportation notices.
Tobias Plate says the 27-year-old Syrian man was most recently told July 13 that he would be deported to Bulgaria.
Plate told reporters that the first deportation notice was issued on Dec. 22, 2014.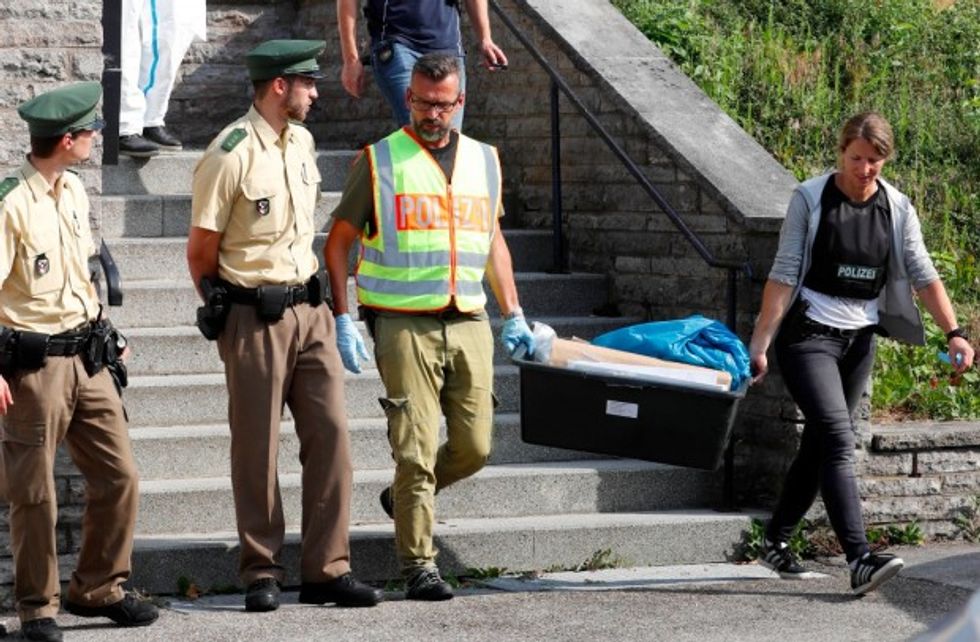 Police officers leave a former hotel where a Syrian man lived before the explosion in Ansbach, Germany, Monday, July 25, 2016. Bavaria's top security official says a man who blew himself up after being turned away from an open-air music festival in the southern German city was a 27-year-old Syrian who had been denied asylum. (AP Photo/Matthias Schrader)
He says the man was to be deported to Bulgaria because he had submitted his first asylum request in the southeastern European country.
Germany's top security official says authorities are conducting 59 investigations of refugees suspected of possible links to terrorist organizations.
Interior Minister Thomas de Maiziere says it would be wrong to put all refugees under general suspicion, "even if there are investigations in individual cases."
The Funke newspaper group on Monday quoted him as saying: "We are currently talking about 59 investigations for possible links to terrorist structures, and that's with many hundreds of thousands of newly arrived people."
He adds that in the overwhelming number of cases, reports turn out not to be true.
De Maiziere called for Germany's borders to be better protected without preventing refugees from coming to the country by legal and safe means — "in reasonable numbers."
He noted that in the Munich gun attack there was no indication that the perpetrator, the German-born son of Iranian asylum-seekers, had failed to integrate in German society.