PHILADELPHIA - The pro-life group Democrats for Life of America presented Gov. John Bel Edwards (D-La.) with its Governor Casey Whole Life Leadership Award on Wednesday at an event near the Democratic National Convention.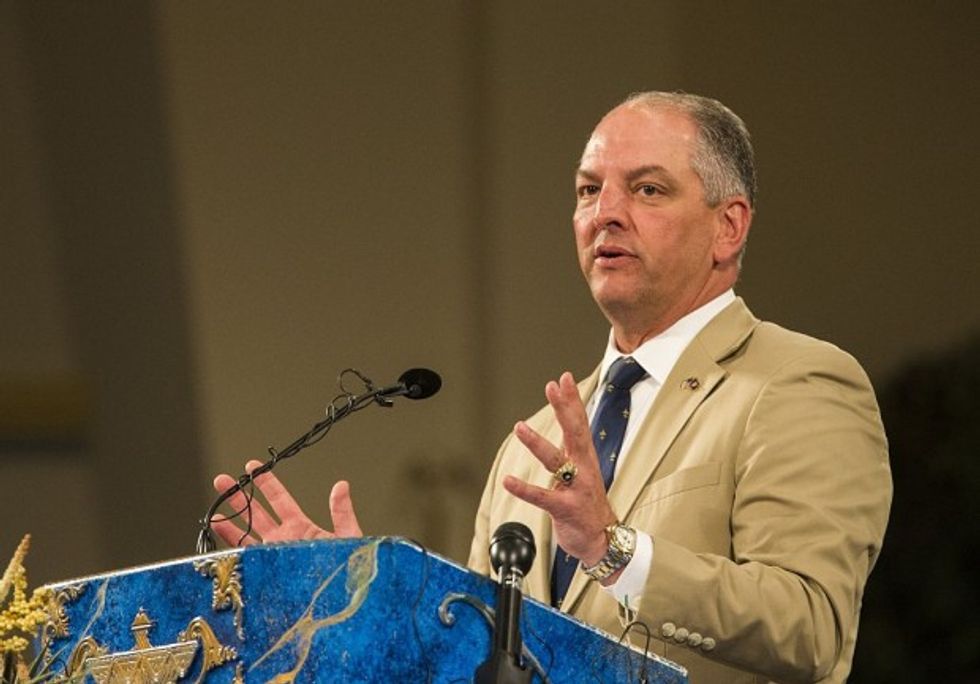 Gov. John Bel Edwards (D-La.) speaks during a prayer vigil for Alton Sterling, a slain police officer, on July 7, 2016 in Baton Rouge, Louisiana. (Mark Wallheiser/Getty Images)
Edwards called himself a "proud Democrat" but said being a pro-life member of the party is "a bigger challenge than it should be."
.@JohnBelforLA says being a #prolife Democrat is "a bigger challenge than it should be." #DemsInPhilly pic.twitter.com/wlkthPydNo

— Kate Scanlon (@kgscanlon) July 27, 2016
Edwards said pro-life Democrats must make their voices heard because "it's hard to be a big tent party if you've got a very small platform."
He argued that pro-life Democrats "can be successful" but "it's going to be increasingly difficult to navigate these waters if the party doesn't moderate on this issue."
"I'm telling you, there are many more people out there like us than you might imagine," Edwards said. "But sometimes it's easier for those folks who feel like we do on this issue to remain silent ... but remaining silent isn't going to get the job done."
Edwards said he's proud of the 100 percent pro-life voting record he earned as a legislator, but he added that he believes a truly pro-life position not only includes opposition to abortion but also fighting for access to health care, housing and nutrition.
"You can't simply say you're pro-life," he said. "It's got to be demonstrated."
.@JohnBelforLA accepts @demsforlife's Governor Casey Whole Life Leadership Award, promises to display in his office pic.twitter.com/ssaxbvdwJ2

— Kate Scanlon (@kgscanlon) July 27, 2016
Edwards added that when he and his wife Donna were young, her doctor advised them to terminate their pregnancy when their unborn daughter was diagnosed with spina bifida, but they choose life.
"It was our faith, our belief, that God wanted us to have this child," Edwards said.
Edwards said their daughter is now 24, recently married and attending graduate school.
"I cannot imagine life without her," he said.
Kristen Day, executive director of Democrats For Life of America, called the event "our response to the DNC."
The pro-life group has expressed opposition to the abortion language in the platform adopted by the Democratic Party. The platform calls for the repeal of the Hyde Amendment — which would permit taxpayer funding for abortion procedures — and offers the party's support to Planned Parenthood by name.
.@demsforlife want the party to "open the big tent" to #prolife voters. Here's their billboard outside #DemsInPhilly pic.twitter.com/ulHmqwl6uo

— Kate Scanlon (@kgscanlon) July 27, 2016
Day told TheBlaze that the reactions to her organization's efforts at the DNC were "pleasantly surprising."
"We're having a lot of interesting discussions about who we are and what we believe," she said.
Day said she hopes pro-life Democrats will be able to encourage the party to move "in a new direction" on abortion as the DNC chooses a new chair following the resignation of Rep. Debbie Wasserman Schultz.
The group also released its new report, "Make Room for Pro-Life Democrats and the Party Wins," on Wednesday. The report argues that the party's losses in middle America in recent elections can be traced to its "extreme" position on abortion.
Edwards concluded his remarks by asking for "prayers for our state," telling those in attendance that he will return to Louisiana this evening to attend a memorial service Thursday for the police officers slain in Baton Rouge.
—
Follow the author of this story on Twitter and Facebook: