On the last night of the Democratic National Convention, Khizr Khan, the father of fallen Muslim soldier Captain Humayun Khan, delivered an emotional speech in which he made a moral case against Republican nominee Donald Trump.
The rousing speech was the topuc Saturday morning's edition of MSNBC's AM Joy, prompting a tense exchange between panelists Malcolm Nance, a combat veteran, and conservative radio host Heidi Harris.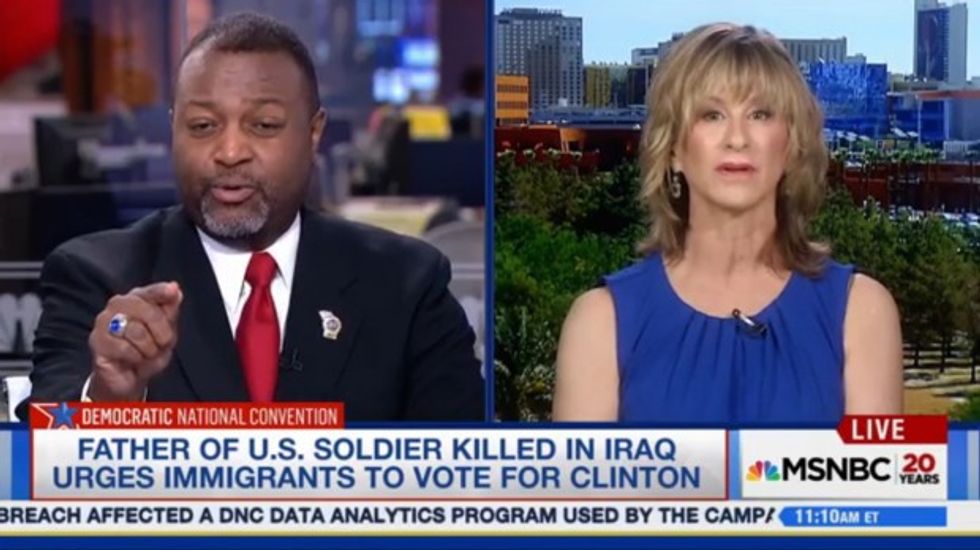 Image source: MSNBC
Nance blasted Harris for supporting Trump, who infamously floated the idea of barring Muslims from immigrating to the United States.
The combat veteran said that Trump and his supporters need to shut up about Captain Khan and "keep their opinions to themselves."
Harris then interjected, saying that she personally respects the Khan family, calling the slain captain an "incredible hero," but Nance quickly cut her off.
"This family has given more than you will ever give for the rest of your life," he fumed. "I am saying that as a combat veteran. I don't want to hear it."
"Why are you yelling at me?" Harris asked in disbelief. "It's not me who is saying bad things about the Khan family."
Harris then tried to explain to Nance and host Joy Reid that she only supports the controversial candidate "because he's the last one left."
"He's not the person I wanted to be president," she insisted. "I don't want Hillary. That's the only reason I vote for Trump."
But Reid ultimately sided with Nance.
"You're still affirmatively supporting a candidate for president who has said that he would do a ban that would have kept the Khan family out of the country," she said.
Watch: