A video recorded the evening of the mass shooting in Dallas that left 5 police officers dead allegedly shows two on-duty DPD cops referring to fellow officers as "cowards" on a podcast.
According to KTVT-TV, officers Gregory Watkins and Margus McCuin called in to "Your World, My Views," a live podcast hosted by outspoken political and social activist, Tommy Sotomayor.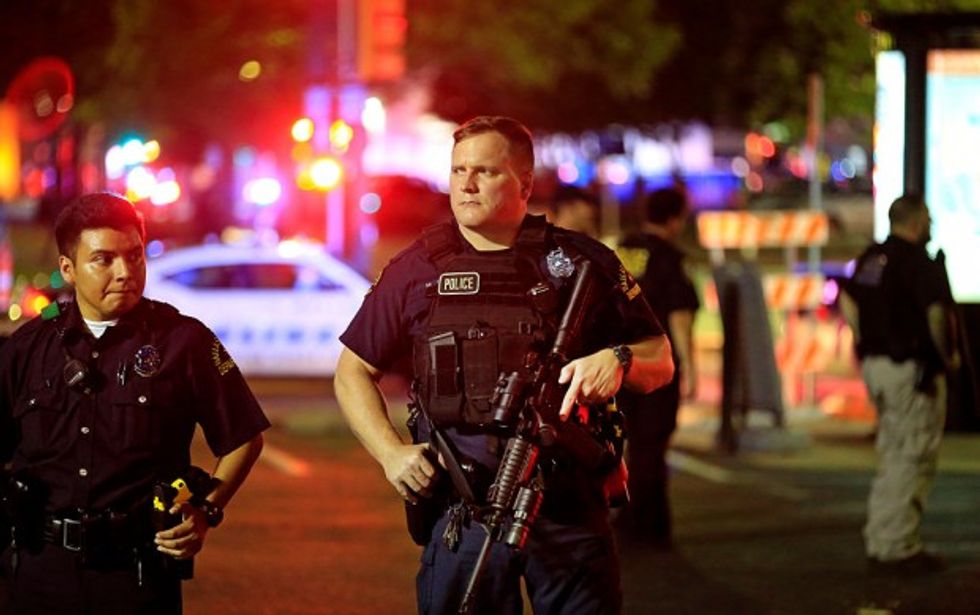 Dallas police stand watch near the scene where four Dallas police officers were shot and killed on July 7, 2016. (Ron Jenkins/Getty Images)

"As you can see I am a Dallas Police officer I am at work as we speak ... it's complete chaos," Watkins reportedly said during the July 7 call.
"It shows they weren't doing their job that night," Dallas Police Association President Ron Pinkston told KTVT. "There were a lot of officers with heroic actions that night and these guys instead were doing a podcast."
The video that allegedly shows the officers placing the call was posted and later removed from YouTube, according to the station.
"Quit hiring cowards, they are hiring cowards ... my partner says they are hiring cowards," Officer Watkins reportedly said of the academy. "They are hiring ex-military and they don't see people as human."
The officers also condemned the recent police shootings around the country that have fueled an anti-cop sentiment and sparked violent protests nationwide.
Watkins' and McCuins' controversial comments came amid the deadly ambush-style attack carried out by Micah Johnson, a black Army veteran. The two reportedly drove around for an hour after being called to respond to the scene of the massacre.
The Dallas Police Association told KTVT that the two cops in the video are not a reflection of how other police feel.
Department officials are aware of the podcast and told KTVT that Internal Affairs is investigating both men. As of now, the officers remain on active duty but could face serious disciplinary action, officials say.