Intense flooding in Ellicott City, Maryland, destroyed local businesses and homes over the weekend, leaving at least two dead. More than 100 had to be rescued from the floodwaters.
This is Main Street this afternoon. Officials are estimating the clean up could take months at the least.#WBAL pic.twitter.com/KrBdaowN3D

— Omar Jimenez (@OmarJimenezWBAL) July 31, 2016
A video recorded by one Ellicott City resident during the storm that devastated the historic Maryland town shows one such rescue.
In the video, posted to Facebook by local business owner Sarah Arditti, a group of residents rally to form a human chain to save a woman trapped in her car. The footage shows the woman almost being swept away by the raging floodwaters as she attempts to drive through the torrent.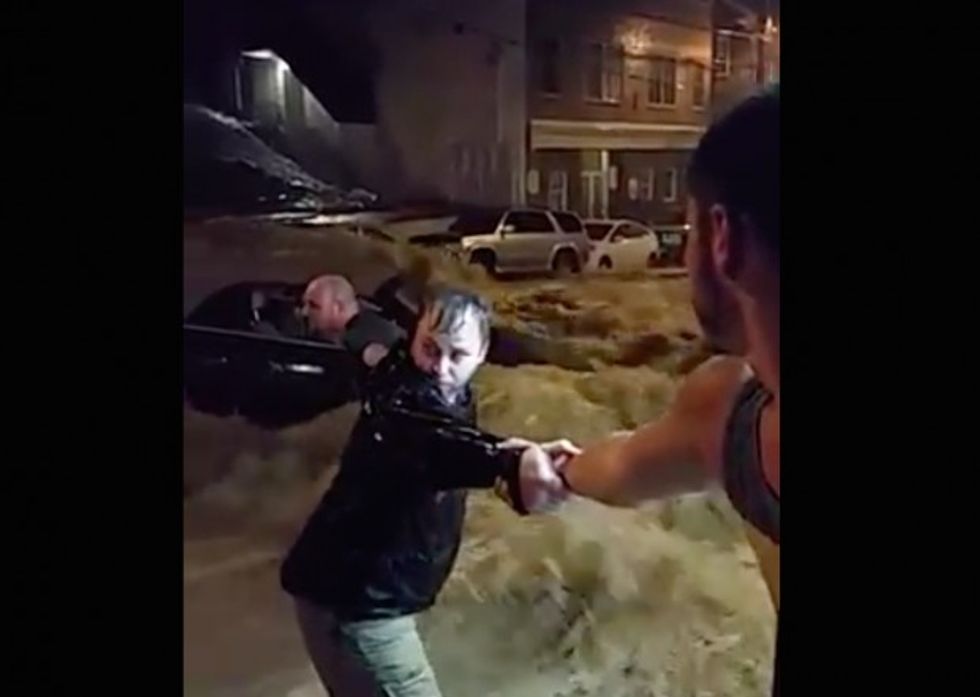 Image via Facebook

"Get out, get out!" a bystander can be heard shouting to the woman off-camera.
At least four men are depicted in the video, joining hands in a risky maneuver to save the woman. The man closest to the car is momentarily swept away by the water, but manages to hang on to the car and regain his footing.
"You're not going to make it!" one of the men shouts.
"I can't get out," she cries as she desperately tries to escape through the car window.
"You have to!" another rescuer insists.
The man closest to the vehicle helps the woman out of her car and carries her in his arms, back to safety.
The incredible scene was captured by Arditti's husband, Dave, who filmed the rescue while using his free hand to hold on to the human chain.
(Content warning: Strong language):
"Dave was at the top of the human chain holding the next man's hand and filming with the other," Arditti wrote in her post.
"The man who got washed away was incredibly lucky," she remarked.
The rescue occurred Saturday evening on Main St., right in front Still Life Gallery, Arditti's business, which was severely affected by the flood.
Maryland Gov. Larry Hogan declared a state of emergency Sunday after surveying the town and seeing the extent of the damage. The decision will allow greater aid coordination and assistance needed to restore the town.