An editor at the New York Times defended in a blog post published Tuesday the paper's decision not to cover an unflattering story about Democratic presidential nominee Hillary Clinton.
Liz Spayd, the Times' public editor, attempted to explain why the publication didn't cover Clinton's claim during a recent "Fox News Sunday" interview that FBI Director James Comey said her answers regarding her use of a private email server while she was secretary of state were "truthful."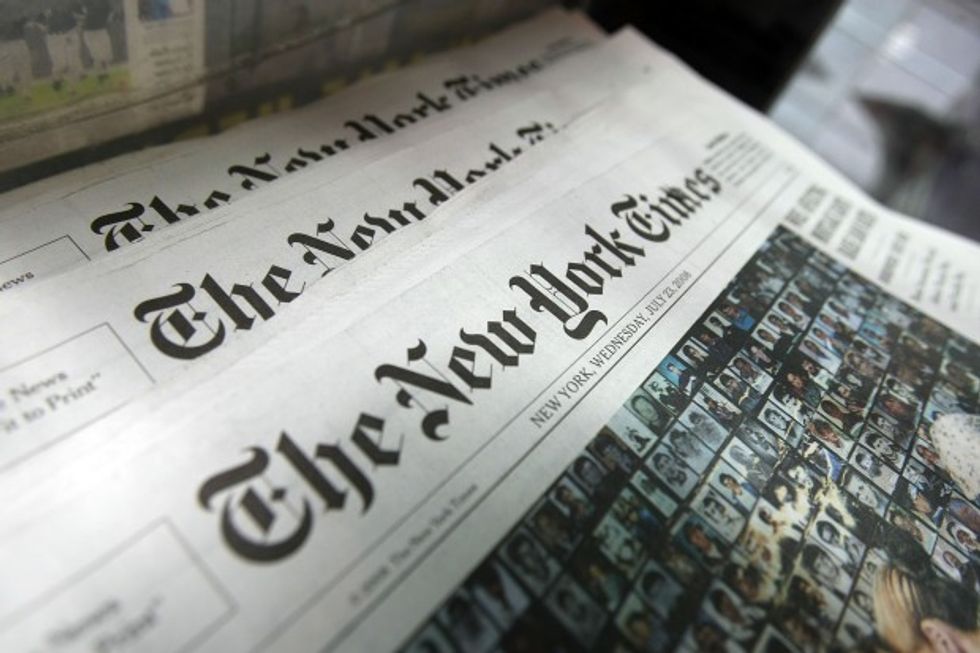 Getty Images/Mario Tama
As TheBlaze previously reported, the Washington Post fact-checked Clinton's claim and wrote that she was "cherry-picking" Comey's statements to make her case. The Post gave Clinton's statement "Four Pinocchios" — a score they reserve for "whoppers."
"As it turns out, Clinton's contentions in the interview were misleading, bordering on false," Spayd wrote, noting that other news outlets "challenged Clinton's claims."
"If you're getting all your political news from The New York Times, this may be the first time you're hearing this," Spayd wrote. "Clinton's remarks were covered by several major news organizations, several of which pointedly challenged the Democratic nominee's candor. But nothing on the interview ever appeared in The Times, either online or in print."
Spayd argued that the Times "has been aggressive in its coverage of the email servers" and that Clinton's interview "may have felt like more of the same, especially coming as it did on the same day Trump made a flip remark about a Muslim couple who lost their son in Iraq and appeared at the Democratic convention."
"The Trump story is what captured the headlines, and quite rightly. His insensitive attempt to undercut the couple even drew lashings from members of his own party," she added.
She wrote that "a small but critical block of voters is still looking for information that might help them answer two questions: Is Trump a reckless bully with no sense of decency and poor judgment? And is Clinton someone Americans can really trust?"
"As the general election unfolds, it's essential that whatever doubts linger about the candidates, these voters believe that The Times will give them the information they need to answer those questions," Spayd concluded.
—
Follow the author of this story on Twitter and Facebook: