The Obama administration secretly airlifted $400 million in cash to Iran as four Americans detained by Iran were released, according to the Wall Street Journal.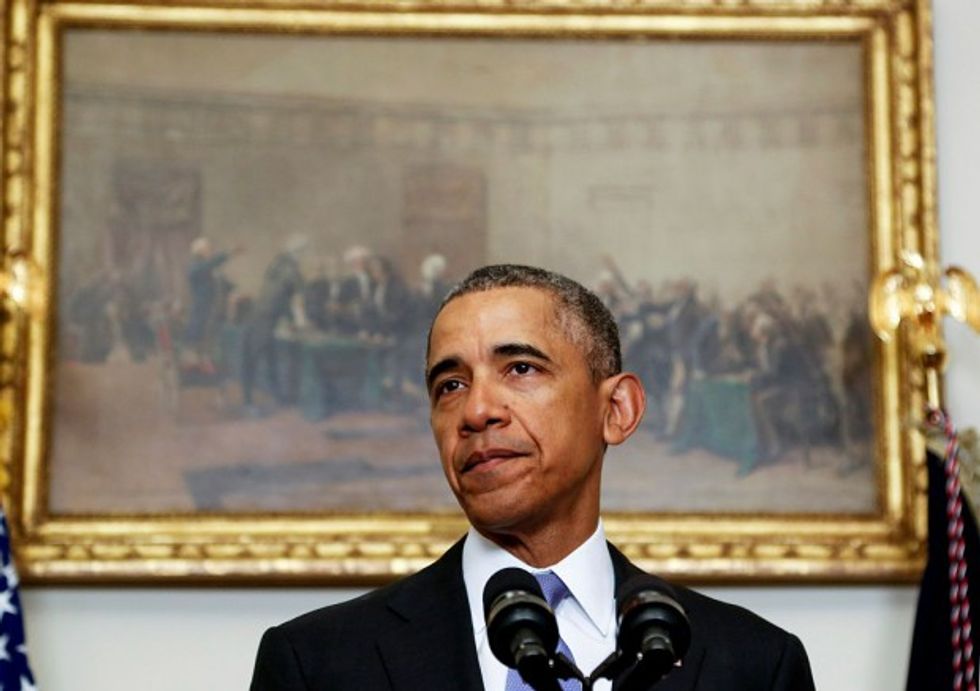 President Barack Obama delivers a statement Jan. 17 on the relations between the U.S. and Iran, including the release of the U.S. hostages that were held in Iran. (Aude Guerrucci-Pool/Getty Images)
The report states that the United States sent "wooden pallets stacked with euros, Swiss francs and other currencies" into Iran on an "unmarked cargo plane." U.S. law forbids transactions with Iran with American currency.
The U.S. and European officials who spoke to the Journal didn't specify exactly when the airlift of cash occurred, but the Tasnim agency, "an Iranian news site close to the Revolutionary Guard," reported that the plane landed at Tehran's Mehrabad Airport the same day the American prisoners were released.
According to the Wall Street Journal, senior U.S. officials denied a link between the payment and the release of the prisoners and claimed the payment was the first installment of a $1.7 billion agreement the Obama administration made with Iran to settle a longstanding dispute over a 1970s arms deal. The officials claimed the payment was merely "coincidental" with the release of the prisoners.
State Department spokesman John Kirby told the Journal that "the negotiations over the settlement of an outstanding claim ... were completely separate from the discussions about returning our American citizens home."
"Not only were the two negotiations separate, they were conducted by different teams on each side, including, in the case of The Hague claims, by technical experts involved in these negotiations for many years," Kirby added.
The four prisoners — Washington Post reporter Jason Rezaian, former marine Amir Hekmati, Christian pastor Saeed Abedini and Nosratollah Khosravi-Roodsari — were released Jan. 17.
—
Follow the author of this story on Twitter and Facebook: