Donald Trump's campaign chairman promised Thursday that the Republican presidential nominee would support House Speaker Paul Ryan's reelection campaign.
"He's going to support Paul Ryan, he does support Paul Ryan," Paul Manafort told CBS "This Morning." "He said he's going to work with Paul Ryan so there's no issue about that. He didn't take a position in the primary, he's not taking a position in many primaries."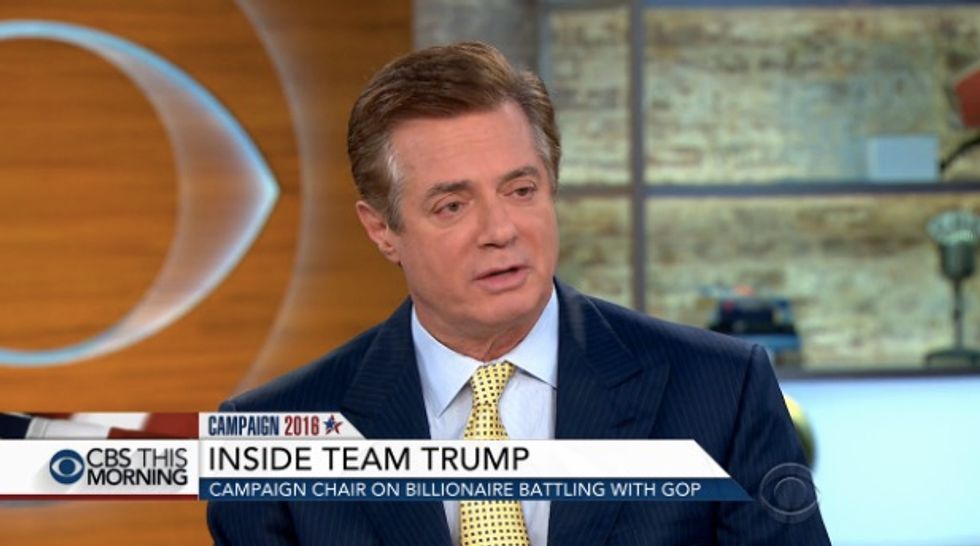 Image source: CBS News
Trump told the Washington Post in an interview Tuesday that he is "not quite there yet" when it comes to endorsing Ryan in his primary run against businessman Paul Nehlen. While he alluded that the country "needs very strong leadership," Trump also praised Nehlen and his campaign, adding that he is a "big fan."
Following the interview, Trump's running mate, Indiana Gov. Mike Pence, bucked with his partner and publicly backed Ryan.
Manfort contended that the position of the Trump campaign is "not getting involved in primaries" and added that Ryan and Pence have a personal friendship.
"Donald Trump understood that relationship," he said.
During Manfort's interview, things got interesting when the campaign chairman had a slip of the tongue and erroneously said that while he personally supports Ryan as House Speaker, "I know after next week I'm going to be supporting him for a candidate for president, too."
—
Follow Kaitlyn Schallhorn (@K_Schallhorn) on Twitter