Donald Trump spokeswoman Katrina Pierson told CNN's Victor Blackwell Saturday morning that President Obama is responsible for the United States' presence in Afghanistan.
The remark came during a discussion of Trump's comment Wednesday that Obama is the "founder of" the Islamic State.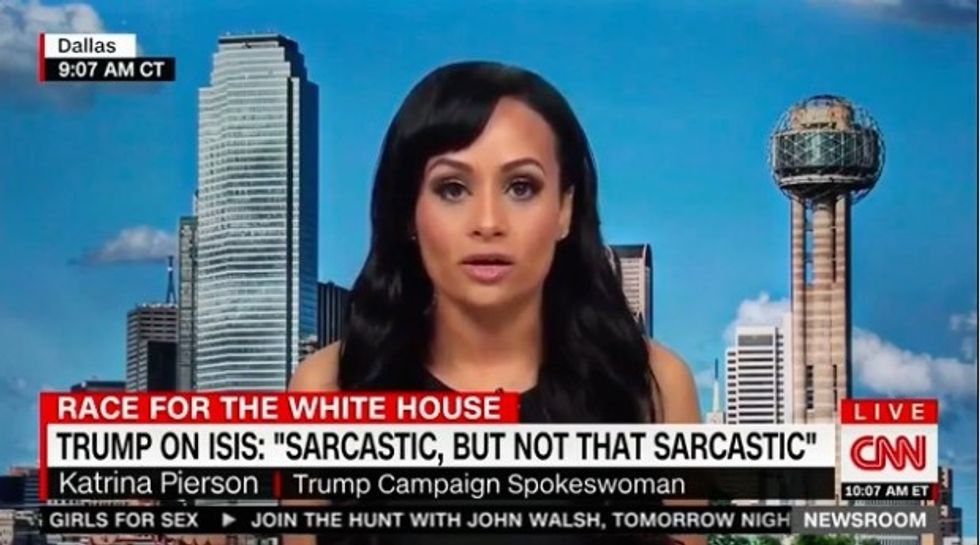 Image source: YouTube
"Remember, we weren't even in Afghanistan by this time. Barack Obama went into Afghanistan, creating another problem," Pierson told Blackwell.
"You're saying Barack Obama took the country into Afghanistan post-2009?" the CNN anchor clarified, apparently stunned at the suggestion.
"That was Obama's war, yes," Pierson said.
Blackwell later grilled the spokeswoman about her factual blunder. To this, Pierson insisted, "We're talking about ISIS specifically."
But again, Blackwell noted that the Islamic State terror group was around long before Obama took office in 2008.
It's not the first time Pierson has blamed Obama for something that happened years before his presidency. Earlier this month, she charged the president with the 2004 death of Captain Humayun Khan. She later apologized for the accusation, transferring blame instead to Democratic presidential candidate Hillary Clinton.
After the Captain Khan mishap, a Trump adviser told CNN, "I think we're fixing it, I guarantee you that won't happen again with her, that's for sure."