Huma Abedin, top aide to Democratic presidential nominee Hillary Clinton, didn't play an editorial role at a radical Muslim publication, a Clinton campaign spokesman told the New York Post.
The news comes on the heels of an inital Post article Sunday reporting that Abedeen worked for a dozen years at the Journal of Minority Muslim Affairs, a Saudi-financed publication favoring Islamic Shariah law and criticized as anti-woman.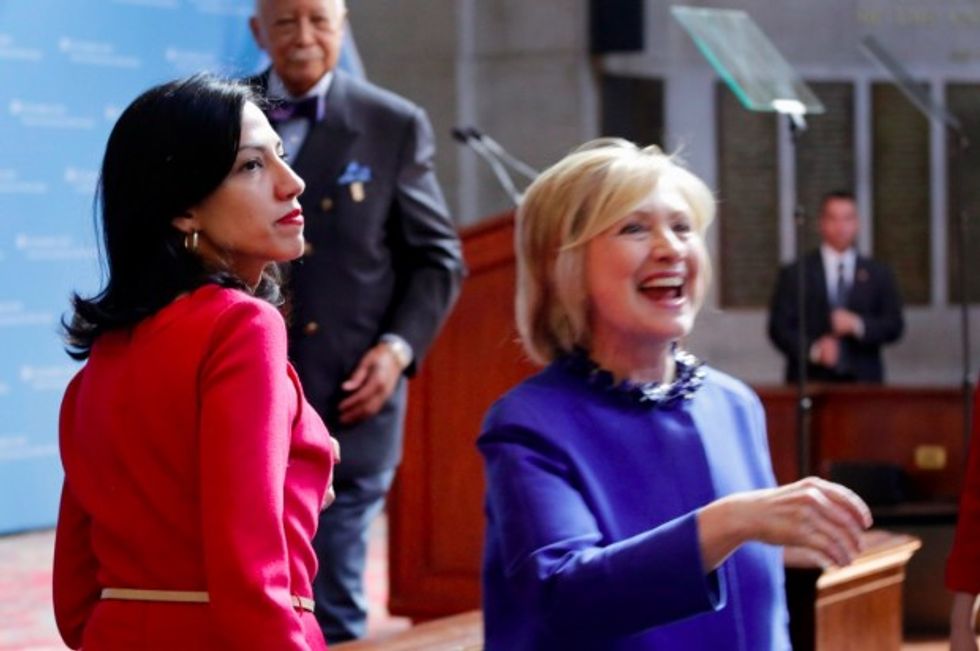 Huma Abedin, left, an aide to Hillary Rodham Clinton, watches the Democratic presidential contender greet members of the audience following a speech at the David N. Dinkins Leadership and Public Policy Forum in New York April 29. (AP Photo/Mark Lennihan)
"My understanding is that her name was simply listed on the masthead in that period," Clinton spokesman Nick Merrill told the Post, adding that Abedin wasn't actually on staff. "She did not play a role in editing at the publication."
More from the Post:
A journalism major at George Washington University, Abedin, 40, was listed as "assistant editor" of the journal from 1996 to 2008, when her name was removed from the staff box and she went to work for Clinton at the State Department.

Her brother, who was an associate editor, and a sister, also employed as an assistant editor, are listed as staff members.

Merrill repeatedly refused to say if Abedin was paid during her tenure at the publication.

He also declined to say whether Clinton, who has made championing women's rights a centerpiece of her campaign, was aware of her longtime aide's position at the publication or its extremist views.
The journal pinned blame for the 9/11 terror attacks on the United States, the Post said, adding that it has published articles saying single moms, working moms and gay couples with children shouldn't be recognized as families and that revealing dress "directly translates into unwanted results of sexual promiscuity and irresponsibility."