The children of a deceased Texas police officer were escorted to class on their first day of school by dozens of their father's colleagues in the Amarillo Police Department, according to KVII-TV.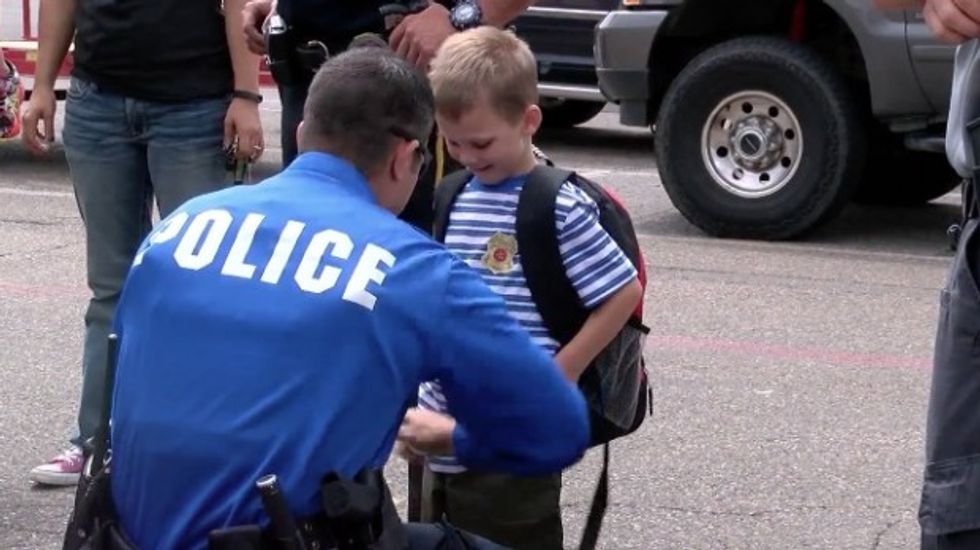 Image source: KVII-TV
Officer Justin Scherlen, 39, died earlier this month from complications following an on-duty crash almost a year ago. His widow, Jessica Scherlen, told KVII that her son Jackson's first day of preschool was a "really emotional time."
Jackson was greeted by his father's brothers and sisters in blue at school on his first day.
"He was shocked when we first showed up and saw everything," Scherlen said.
After losing his police officer dad, he has an army of stand-ins for this important first. #firstdayofschool2016 pic.twitter.com/BwtRMRuNmf

— Amarillo ISD (@AmarilloISD) August 22, 2016
Officer Daniel Smith told KVII that he wishes Justin Scherlen could have been there instead.
"At least we can be here for him and let Jackson know that he always has someone to call on," Smith said.
Amarillo police officer Carla Burr told KVII that Justin Scherlen "was always so kind to everyone."
"Even this last year when he was in so much pain and not even able to walk on his own sometimes, he would always ask what he could do for you," Burr said. "Constantly checking in on people."
Scherlen said she thinks Jackson "really enjoyed having everyone here."
"Just to know that he's still loved by the blue family and that they still care," she said. "Emotionally, it's awesome to see."
According to KAMR-TV, the officers also escorted Scherlen's fourth and second graders to their first day of school prior to escorting Jackson.
Watch KVII's report below:
—
Follow the author of this story on Twitter and Facebook: