Republican presidential nominee Donald Trump told reporters Monday that he has an "obligation" to debate Democratic presidential nominee Hillary Clinton barring natural disasters.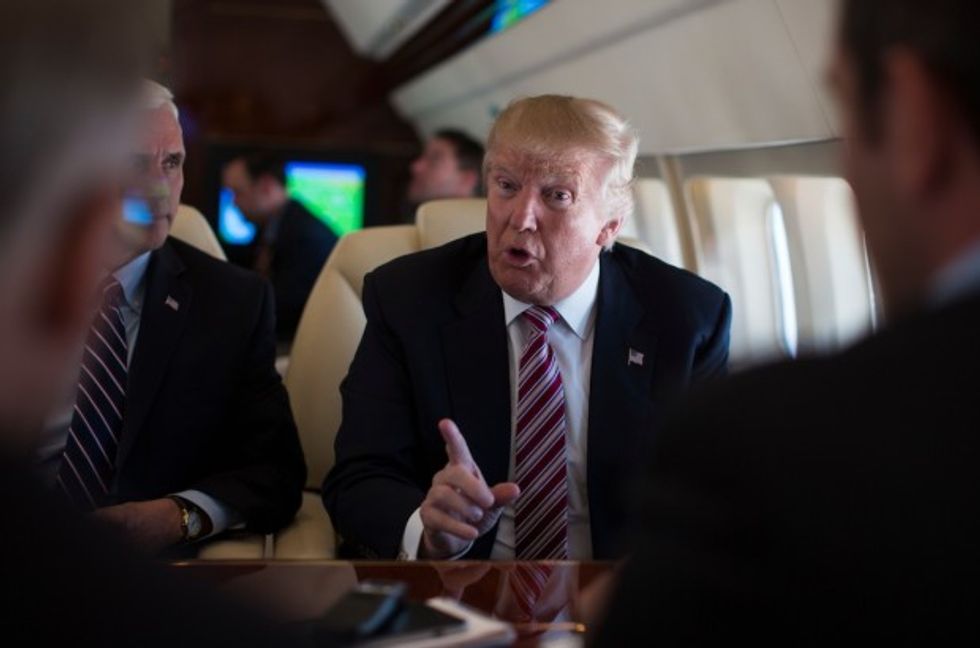 Republican presidential candidate Donald Trump talks with press, Monday, Sept. 5, 2016, aboard his campaign plane, while flying over Ohio, as Vice presidential candidate Gov. Mike Pence, R-Ind., left, looks on. (AP Photo/Evan Vucci)
Trump said that "as of this moment," he is planning on participating in all of the scheduled debates. Pressed on what could deter him from debating, Trump replied, hurricanes, natural disaster."
"No, I expect to do all three," he said, adding that he's "looking forward" to the debates.
Trump said debates are "an important element of what we're doing here."
"I did them with the other, you know, the other cases. We had, I guess 11 debates," Trump said of the Republican primary debates. "Obviously, I did well in the debates. Obviously, according to the polls, the online polls they did right after the debates. And I think I'm doing the same thing."
Trump didn't shed light on how he is preparing for his upcoming debate against Clinton, saying, "I'm doing some."
"I've seen people do so much prep work when they get out there, they can't speak. I've seen that," Trump said.
Trump added that he likes the moderators chosen for the debates.
"I like them, I respect the moderators," Trump said. "I do respect them. It's interesting."
The first debate between Clinton and Trump is scheduled for Sept. 26.
Watch below:
Trump on his plane, says only "hurricanes, natural disasters" would stop him from participating in Pres debates: https://t.co/aREl8ZrBAz

— Frank Thorp V (@frankthorp) September 5, 2016
—
Follow the author of this story on Twitter and Facebook: