Vice President Joe Biden told the press that he is "confident" in how Democratic presidential nominee Hillary Clinton has handled reports about allegations of possible conflicts of interest regarding the Clinton Foundation during her time as secretary of state.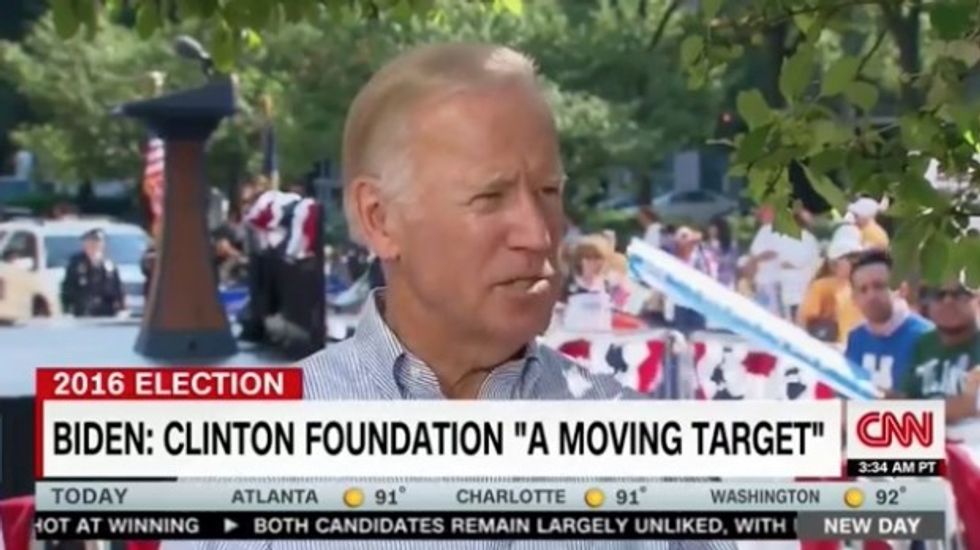 Vice President Joe Biden (Image source: YouTube)
"Well, I think she's … my understanding is she is going to make a final judgment about what they're going to do with the foundation and just lay it all out and this is what's going to happen from this point on, this is who I am, this is what we're going to do and they're going to be good," Biden said during a Tuesday interview on CNN alongside Clinton's running mate, Virginia Sen. Tim Kaine.
Biden, asked if Clinton has been clear about scandals involving her use of a private email server while she was secretary of state and the Clinton Foundation, said that the foundation has been a "moving target."
"I mean, look, the whole notion of how foundations function is now all of a sudden being put in play like it never was before," Biden replied. "So I'm absolutely confident she is doing it by the book, and I think she is going to figure out what she's going to say crystal clear to the American people about what the relationship between the family and the foundation will be from this point forward."
Watch below:
(H/T: Washington Free Beacon)
—
Follow the author of this story on Twitter and Facebook: