WASHINGTON — The House will vote Thursday on a resolution to impeach Internal Revenue Service Commissioner John Koskinen, lawmakers told reporters Wednesday.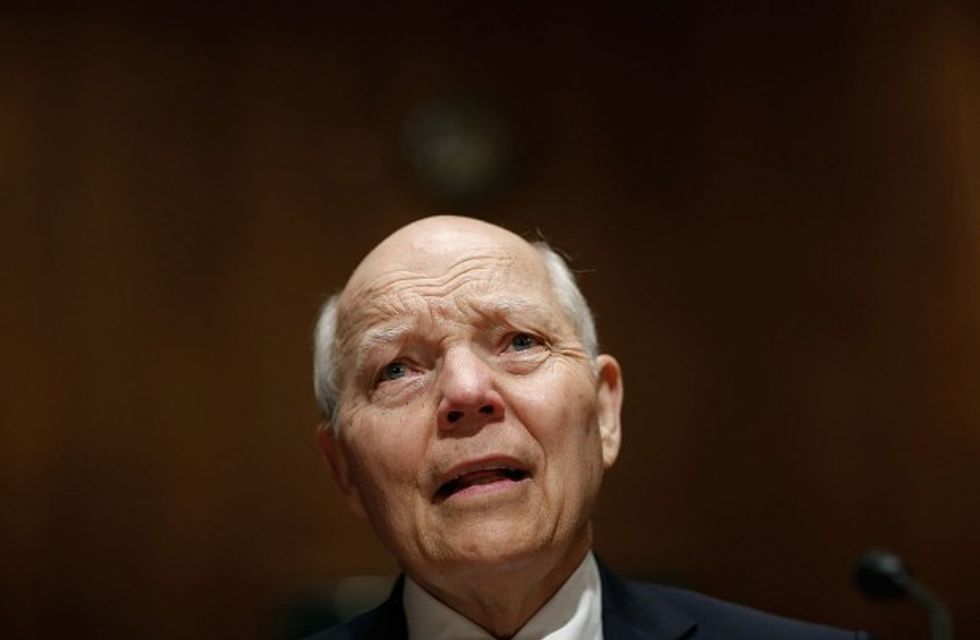 I.R.S. Commissioner John Koskinen testifies before the Senate Finance Committee June 2, 2015 in Washington, DC. The committee heard testimony on the topic of 'Internal Revenue Service Data Theft Affecting Taxpayer Information.' (Win McNamee/Getty Images)
Koskinen joined the IRS after the agency's targeting of conservative groups first came to light in 2013, but Members of the House Freedom Caucus have alleged that during their probe of the agency's conduct, Koskinen made false statements during testimony and failed to inform congressional investigators that some evidence went missing.
According to Roll Call, Freedom Caucus lawmakers filed the impeachment resolution under a privileged motion, which requires the House to act on it within two legislative days.
Rep. Jim Jordan (R-Ohio), chairman of the House Freedom Caucus, told reporters he believes Koskinen should be removed from office.
Asked if the there will be enough votes to pass the resolution, Jordan replied, "Our job is to do our job."
"Sometimes the underdog actually gets more points than the other guys, so we'll see," Jordan said. "We're making a strong argument tonight on the floor, and we'll make our arguments tomorrow in front of our colleagues."
Rep. Tim Huelskamp (R-Kan.) told reporters that the IRS used its power to "attack the First Amendment rights of political opponents to the White House during an election season."
"And according to the courts, it is still going on," Huelskamp said, adding that if groups were overly conservative, affiliated with the Tea Party or supportive of Israel, they were targeted.
Fox News characterized the Freedom Caucus' bid to oust Koskinen as a "long-shot," noting that if the House did pass the resolution, his impeachment trial would be held by the Senate, where a two-thirds majority would be required to find him guilty and officially remove him from office.
Fox adds that Senate Democrats — alongside two independents who frequently vote with them — would "be certain to block a guilty verdict."
—
Follow the author of this story on Twitter: