A Georgia couple had their day made when their 12-week-old unborn baby appeared to salute them during a recent ultrasound appointment, ABC News reported.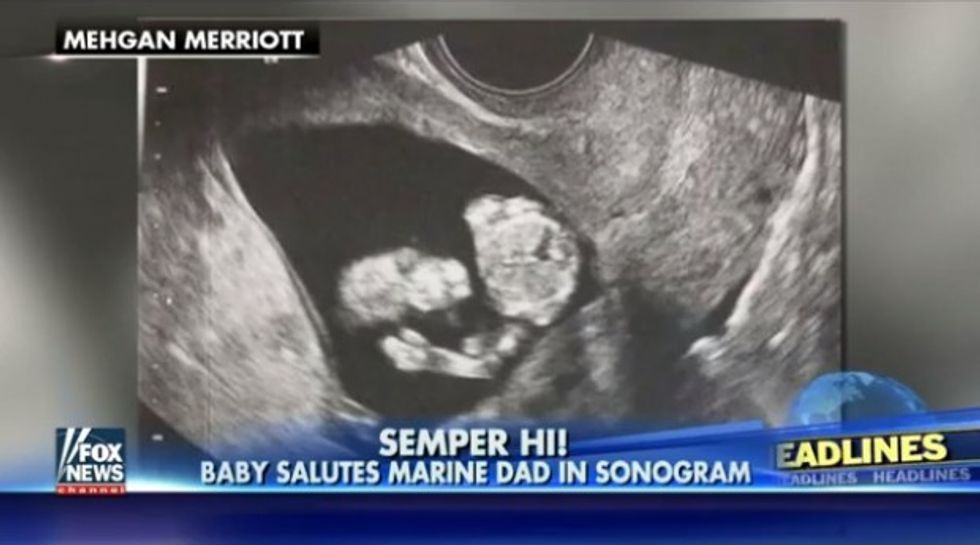 Image source: Fox News
Mehgan Merriott and Robert Cooper, a former marine, told ABC News that during their appointment, they watched their baby raise its hand to its eyebrow.
"While they were doing the sonogram the baby was actually sleeping on its side and they tried several times to get him/her to wake up to take the picture that they needed to take," Merriott said. "The baby didn't want to wake up, then threw [its] hand in the air and then threw it back down."
"I almost cried," she added. "I thought it was sweet."
Merriott said everyone who saw the baby salute "thought it was pretty crazy at first."
"The doctors, nurses, my son was there ... he looked up at the screen and started laughing," she said.
Cooper said he "really enjoyed getting to see the little guy/girl and look forward to meeting him/her."
"I'm sure it's going to be a handful," he added.
According to ABC, the baby's paternal grandmother plans to display the photo of the "salute" at home in honor of Cooper and the baby's grandfather, who served in the U.S. Army.
The couple has not yet revealed if they are having a son or a daughter and are planning a gender reveal party later this month.
Watch below, via Fox News:
—
Follow the author of this story on Twitter and Facebook: