Democratic presidential nominee Hillary Clinton used a speech at Philadelphia's Temple University Monday to court millennial voters and remind them that the upcoming election "isn't a reality TV show."
The Clinton campaign has revamped its efforts to attract the support of millennials after recent polls found that a third of voters ages 18-to-34 are considering voting for a third-party candidate. Millennials were a key constituency responsible for the election of President Barack Obama, although Clinton has so far failed to attract comparable numbers of young supporters to her campaign.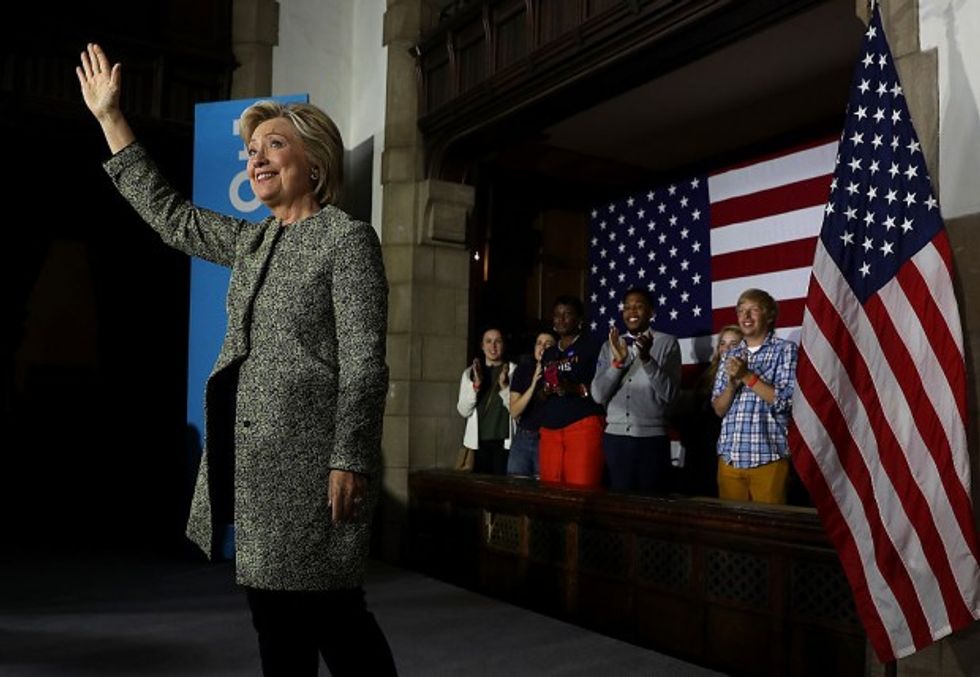 Democratic presidential nominee Hillary Clinton greets supporters at Temple University in Philadelphia on Monday. (Justin Sullivan/Getty Images)
Clinton admitted that young voters may feel cynical about the upcoming election "with so much negativity out there," citing her own experience "wrestling" with cynicism during the Vietnam War.
"It can be tempting to think that no one is ever going to tell you the truth, and nothing is ever going to change," she continued. "But you're here today because you refuse to accept cynicism. You know that the next 50 days will shape the next 50 years, and you can see how much needs fixing in our country."
Clinton acknowledged that, although some in the audience might be "totally opposed" to her rival Republican presidential nominee Donald Trump, "you may still have questions about me."
"You want something to vote for, not just against," she continued.
Clinton pledged to combat income inequality, "systemic racism" and the threats posed by climate change. She also touted a plan to "make public college tuition-free for working families and debt-free for everyone."
"You aren't satisfied, and you shouldn't be satisfied with the progress we've made," Clinton said.
Clinton argued that the election presents millennials with a choice between "two very different visions for America."
"It shouldn't be about birth certificates or name-calling or stunts to get on to cable news," she said, adding, "We can't get distracted when the media or my opponent turns this election into a circus."
Clinton also published an op-ed in Mic Monday about "what millennials have taught me" during her campaign.
—
Follow the author of this story on Twitter and Facebook: