During a radio interview with then-senatorial candidate Ted Cruz in the summer of 2012, conservative talk show host Glenn Beck and his two co-hosts, Stu Burguiere and Pat Gray, promised to hold the former Texas solicitor general accountable if they ever believed that he had reneged on his principles.
On Monday, the on-air trio did just that.
Cruz made headlines Friday when he announced that he was reversing course and endorsing Republican nominee Donald Trump. To Cruz, the billionaire businessman is the only thing that stands between Democratic nominee Hillary Clinton and a Supreme Court stacked with liberal judges and progressive opinions.
But to Beck — and many of Cruz's fiercest supporters — the endorsement meant that he was, in fact, abandoning his principles. After all, instead of announcing an endorsement of Trump during his speech at the Republican National Convention in Cleveland in July, Cruz told a rousing crowd to "vote their conscience."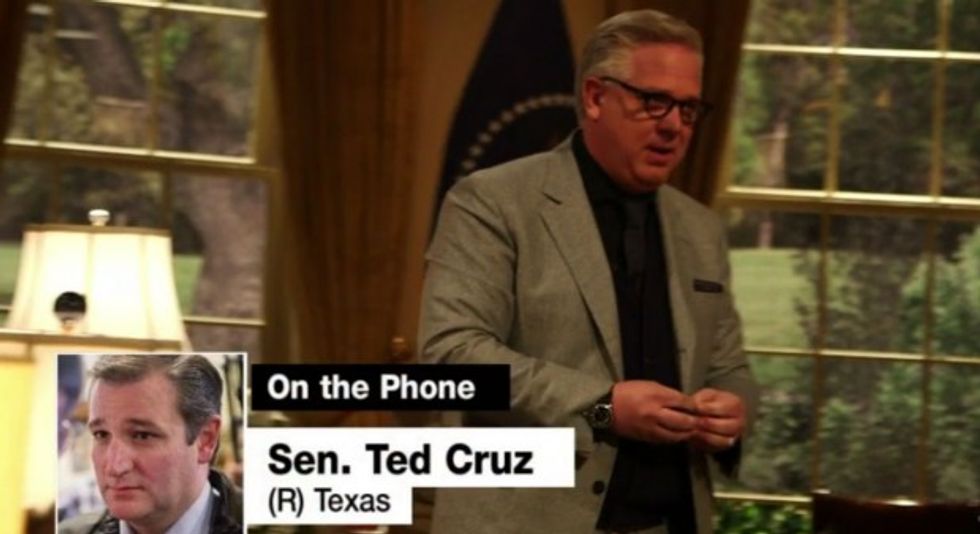 Glenn Beck speaks to Texas GOP Sen. Ted Cruz during The Glenn Beck Radio Program Monday. (Image source: TheBlaze TV)
Still, according to a post on Beck's Facebook page Friday, Cruz felt the need to go onto Beck's nationally syndicated radio program to answer for his change of course, which he did Monday morning.
Beck began the heated interview by invoking Cruz's infamous "vote your conscience" line.
"So am I supposed to now vote for him, or am I supposed to vote for my conscience?" he asked Cruz.
Cruz said that his speech at the GOP convention wasn't a speech against Trump as much but about uniting Republicans under conservative values.
"What I was trying to do at Cleveland was lay out a path to uniting Republicans and lay out a path to winning," Cruz said. "And in particular, I was saying to the Trump campaign, 'This is how you earn my vote and, I believe, how you earn the vote of other conservatives: You defend freedom and defend the Constitution. This is about principles and ideas.' That's the test I'm applying. What I do know is that Hillary Clinton fails that test profoundly."
Cruz, over the weekend, dodged questions about whether or not he believes Trump is fit to be president. During his interview with Beck, Cruz continued to dodge the line of questioning.
"What I said is this is a binary choice," Cruz said, not specifically addressing the question. "I've tried very, very hard to prevent it from being a binary choice between Hillary and Donald Trump."
However, Cruz's answer wasn't sufficient for Beck.
"So a man, who you cannot come on [the show] and say, 'Yes, Glenn, he is fit to be president of the United States,' I still am encouraged by you to abandon my principles and vote [for him] because it's a binary choice?" the radio host shot back. Cruz went on to continue to express why he believes Trump is a better option for president than Clinton, saying, "Clinton is telling us she will do enormous damage to the country."
Still, Beck and his co-hosts weren't satisfied and pressed Cruz over the fact that in Cleveland, he had all of the same information that he does now, and yet made a very different conclusion about Trump.
"This is all the information you had in Cleveland," Beck said. "You had this information the day you dropped out of the race and said that Donald Trump is a 'sociopathic liar.' You had all this information. Do you have new information that has made you say, 'Oh my gosh, he's now not a sociopathic liar. He is not the guy that I very eloquently spelled out, for over a year, and now there's suddenly a reason to believe him'?"
Cruz, however, continued to say that this year's election is a "binary choice," despite pressure from Beck to reveal any new information that Cruz has on Trump that swayed him to endorse.
The heated interview went on for about 20 minutes, with Beck even delaying a network commercial break to hear a final answer from Cruz. Still, the majority of Cruz's answers weren't satisfactory for Beck.
"Ted, I disagree with you, I disagree with you strongly. But I still respect you as a man," he said at the end.
Later, after the interview concluded, Beck admitted that it was the first time he had heard Cruz be "calculating" in his answers.
"It's my fault for believing men can actually be George Washington," Beck said. "It's my fault."
Listen to the complete interview:
You can view the complete interview transcript here.
—
Follow the author of this story on Twitter and Facebook:
[facebook //www.facebook.com/plugins/like.php?href=