San Francisco 49ers quarterback Colin Kaepernick, who became the subject of national debate when he refused to stand during the national anthem during football games, watched some of Monday night's presidential debate, and he was not impressed.
Kaepernick described the showdown between Hillary Clinton and Donald Trump, which garnered some 84 million viewers, as "embarrassing."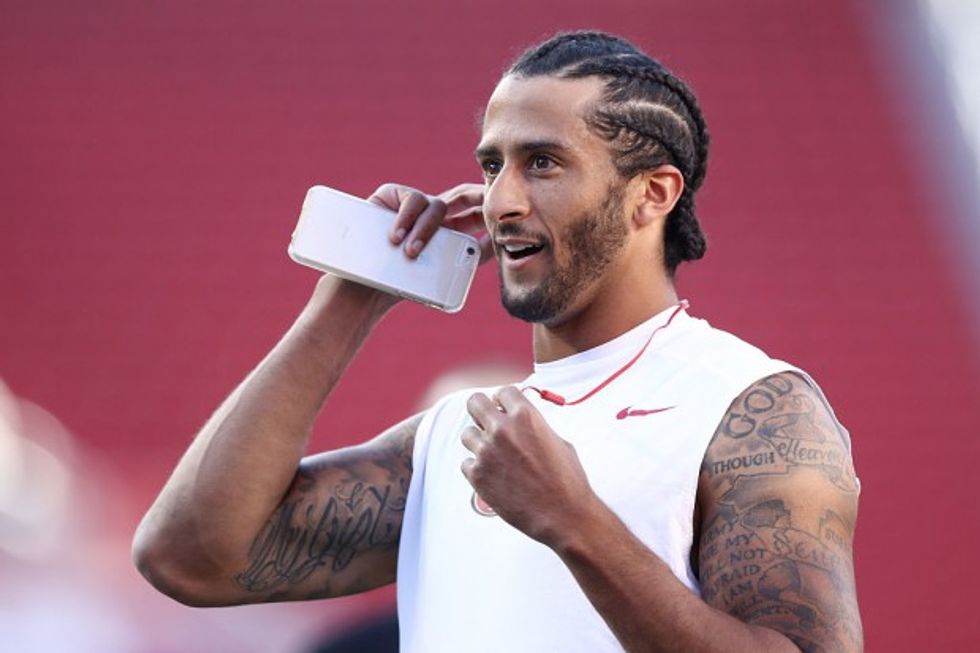 Ezra Shaw/Getty Images
"To me, it was embarrassing to watch that these are our two candidates," he told sports network CSN Tuesday. "Both are proven liars and it almost seems like they're trying to debate who's less racist."
He went on to say the election is generally about selecting "the lesser of two evils," but asserted this go 'round, both candidates are "evil."
According to CSN Bay Area, Kaepernick also weighed in on Trump's famous slogan, "Make America great again." In his view, the U.S. has never been great for minorities.
"He always says 'Make America great again.' Well, America's never been great for people of color," he charged. "And that's something that needs to be addressed. Let's make America great for the first time."
Last month, Trump said Kaepernick should "find a country that works better for him" in response to the NFL star's refusal to observe the national anthem because he feels black Americans are not being treated fairly in the United States.
"That's a very ignorant statement — that if you don't agree with what's going on here and that if you want justice and liberty and freedom for all that you should leave the country," Kaepernick responded.
See Kaepernick's comments below:
Your browser does not support iframes.
(H/T: Mediaite)
—
Follow the author of this story on Twitter: