One of America's most popular professional athletes is finally speaking out about the Colin Kaepernick national anthem controversy.
In a pre-season media session, Cleveland Cavaliers star LeBron James addressed the NFL star's actions — and those of other athletes who followed Kaepernick's lead — who refuse to stand for the playing of the anthem prior to games.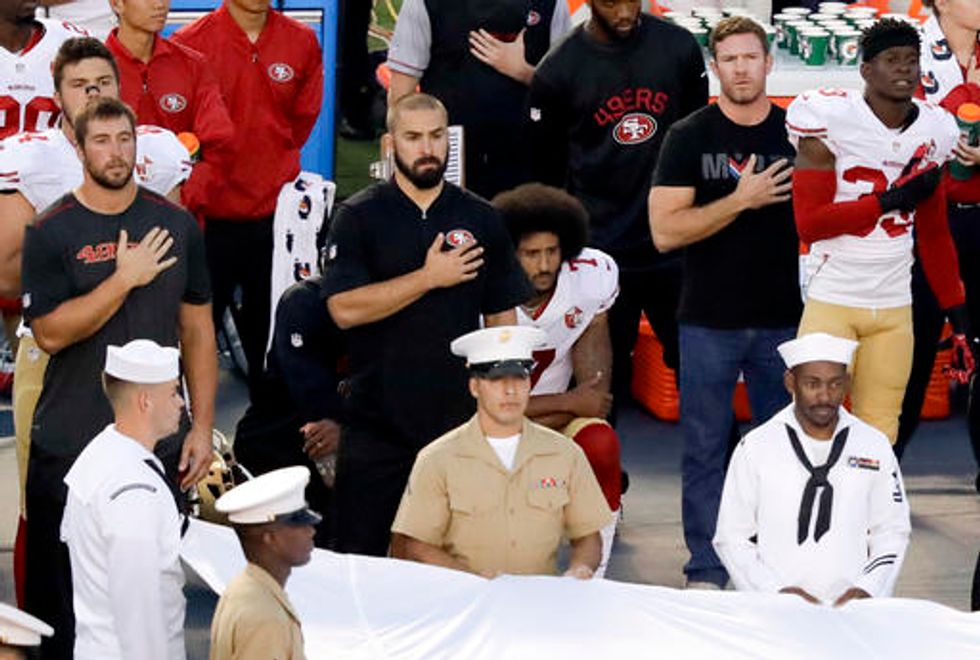 San Francisco 49ers quarterback Colin Kaepernick kneels during the national anthem before a preseason game against the San Diego Chargers on Sept. 1. (AP Photo/Chris Carlson)
"For me, my personal feeling is that I got a 12-year-old son, a 9-year-old son and a 2-year-old daughter and I look at my son being four years removed from driving his own car and being able to leave the house on his own, and it's a scary thought right now to think if my son gets pulled over," James said, according to the Guardian.
"You tell your kids if you just listen to the police that they will be respectful and it will work itself out. And you see these videos that continue to come out and it's a scary-ass situation that if my son calls me and says that he's been pulled over that I'm not that confident that things are going to go well and my son is going to return home. And my son just started the sixth grade," he added.
James was seemingly referring to a video released by the Charlotte police over the weekend, which shows the moments leading up to the fatal shooting of 43-year-old Keith Lamont Scott by a black officer. Scott was instructed by police several times to "drop the gun," but Scott's wife, who also recorded the incident, claimed that her husband didn't have a gun. A handgun was later recovered from the scene of the shooting.
The event was the latest police-involved shooting to spark intense and often violent protests from Black Lives Matter protesters over police brutality. The movement started in 2014, just after 18-year-old Michael Brown was fatally shot by a white police officer in Ferguson, Missouri.
To that end, James said that, though he understands that things don't change overnight, "it doesn't seem like there is any change."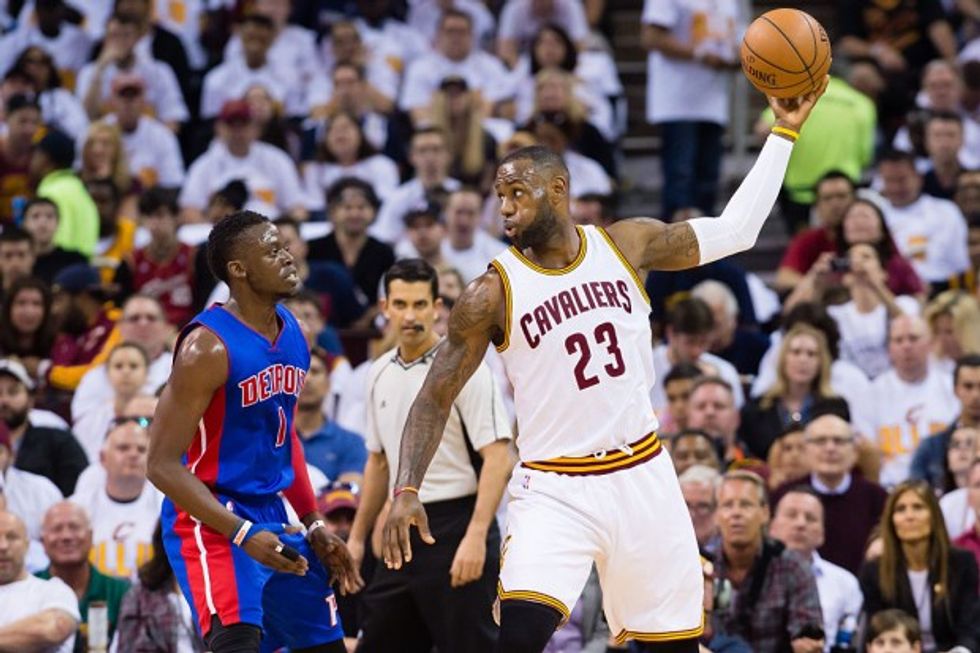 LeBron James of the Cleveland Cavaliers holds the ball while being guarded by Reggie Jackson of the Detroit Pistons during the NBA Eastern Conference quarterfinals in Cleveland, Ohio, April 17. (Jason Miller/Getty Images)
"We just want the conversation to continue to be, 'Who are our leaders? Who are our true leaders that are going to help us change what's going on?' Everyone is looking for that and no one knows," James said. "None of us have the answer. But ... the more times that we can [talk] about it [the better]."
"I'm not up here saying that all police are bad, because they're not. I'm not up here saying all kids are great or all adults are great, because they're not. But at the same time, all lives do matter," he said. "It's not just black or white, it's not that."
The Cavaliers star then waded more specifically into the recent Kaepernick controversy, saying he's "all in favor" of the 49ers quarterback or anyone else being able to "express what they believe in a peaceful manner," which is "exactly what Kaepernick is doing."
But you likely won't see James kneeling or sitting for the Stars and Stripes anytime soon.
"When I'm passionate about something I'll speak up on it, so me standing for the national anthem is something I will do. That's who I am, that's what I believe in," James said. "But that doesn't mean I don't respect and don't agree with what Colin Kaepernick is doing. You have the right to voice your opinion, stand for your opinion, and he's doing it in the most peaceful way I've ever seen someone do something."