For the first time in the newspaper's history, USA Today's editorial board is warning readers against Donald Trump, whom they deem "unfit for the presidency."
This is the first time in the paper's 34-year history that it is taking a position in a presidential election. The board described the Republican presidential nominee as an "erratic," "ill-equipped" "serial liar" who is guilty of "prejudice." The paper also attacked Trump for his "checkered" business history.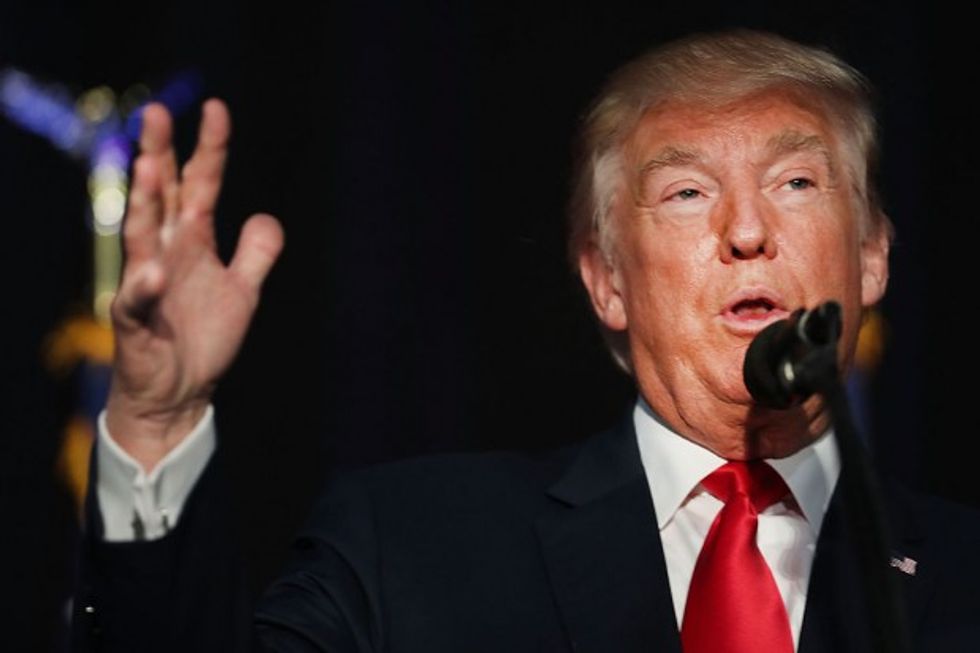 Spencer Platt/Getty Images
"This year, the choice isn't between two capable major party nominees who happen to have significant ideological differences," the editorial reads, continuing:
From the day he declared his candidacy 15 months ago through this week's first presidential debate, Trump has demonstrated repeatedly that he lacks the temperament, knowledge, steadiness and honesty that America needs from its presidents.

Whether through indifference or ignorance, Trump has betrayed fundamental commitments made by all presidents since the end of World War II. These commitments include unwavering support for NATO allies, steadfast opposition to Russian aggression, and the absolute certainty that the United States will make good on its debts. He has expressed troubling admiration for authoritarian leaders and scant regard for constitutional protections.
The editorial board went on to write that they've been very critical of Trump in the past, but as early voting begins in several states, "now is the time to spell out, in one place, the reasons Trump should not be president."
However, the anti-Trump editorial is not a blanket endorsement of Hillary Clinton.
"Some of us look at her command of the issues, resilience and long record of public service — as first lady, U.S. senator and secretary of State — and believe she'd serve the nation ably as its president," the board wrote. "Other board members have serious reservations about Clinton's sense of entitlement, her lack of candor and her extreme carelessness in handling classified information."
Ultimately, the board doesn't seem to be concerned with who voters cast their ballot for, as long as it's not the brash billionaire businessman.
USA TODAY's Editorial Board: Trump is 'unfit for the presidency' pic.twitter.com/1HutRa5JwZ

— USA TODAY (@USATODAY) September 30, 2016
"Whatever you do, however, resist the siren song of a dangerous demagogue. By all means vote, just not for Donald Trump," the op-ed concluded.
USA Today, which is the largest newspaper in the country by circulation, is by far not the first publication to come out against Trump. Earlier this month, the New Hampshire Union Leader broke its century-long record of endorsing the GOP candidate by throwing its support behind Libertarian presidential nominee Gary Johnson.
—
Follow the author of this story on Twitter: