In a recorded statement published on his Facebook page roughly 10 minutes after midnight Saturday morning, Donald Trump apologized for the explicit comments he made about women in a 2005 video released Friday afternoon.
The Republican presidential nominee said, "I pledge to be a better man," after news broke of an 11-year-old clip from a conversation he had with former "Access Hollywood" host Billy Bush, during which he said he can "do anything" to women because he's a "star," including "grab them by the p***y."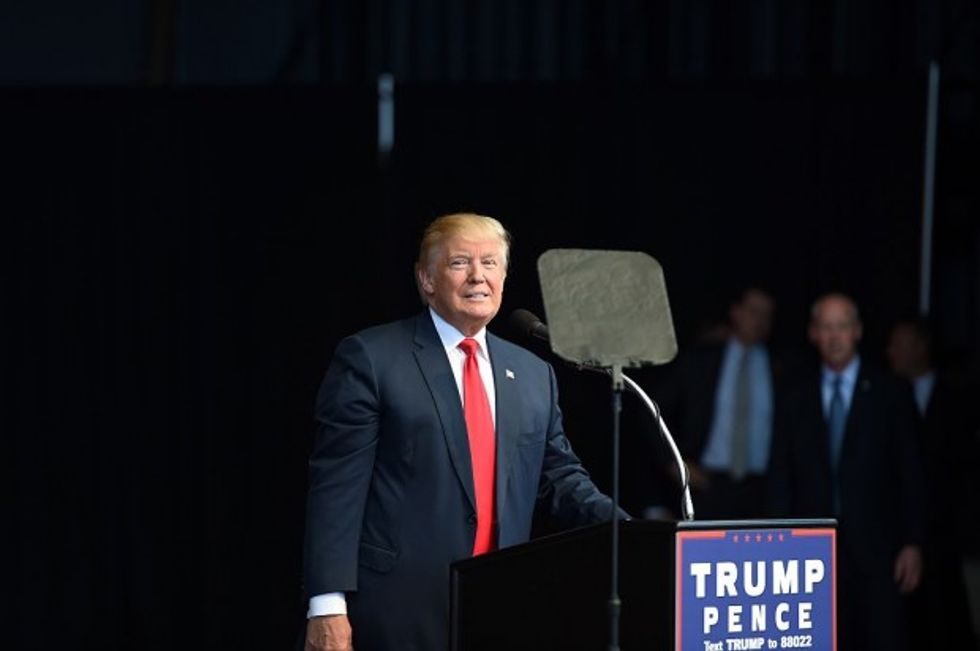 ROBYN BECK/AFP/Getty Images
"I never said I'm a perfect person, nor pretended to be someone that I'm not," Trump said, appearing to be reading from a script. "I've said and done things I regret and the words released today on this more than a decade old video are one of them."
Trump said the explicit and offensive remarks depicted in the video, which was first published by the Washington Post, "don't reflect who I am." He admitted his language was "wrong" and, for the first time in his campaign, uttered the words, "I apologize."
"I've traveled the country talking about change for America, but my travels have also changed me," the billionaire businessman said. "I've spent time with grieving mothers who've lost their children, laid off workers whose jobs have gone to other countries, and people from all walks of life who just want a better future."
The TV-star-turned-politician said he has "been humbled" by the support he's gained since launching his campaign more than one year ago, adding that he will be a "better man" moving forward.
In the second half of the 1 1/2-minute video, Trump pivoted toward his rival, Democratic presidential nominee Hillary Clinton, telling viewers that the release of the vulgar clip is "nothing more than a distraction from the important issues we are facing today."
"We are losing our jobs, we're less safe than we were eight years ago, and Washington is totally broken," he remarked. "Hillary Clinton and her kind have run our country into the ground. I've said some foolish things, but there's a big difference between the words and actions of other people. Bill Clinton has actually abused women and Hillary has bullied, attacked, shamed and intimidated his victims."
In the end, the GOP standard-bearer made it clear he does not plan to back down, and still intends to face Clinton in the second presidential debate Sunday evening.
"We will discuss this more in the coming days. See you at the debate on Sunday," he concluded.
Watch the full apology below:
—