Which candidate isn't political suicide?
"I don't know if you're familiar with 'The Princess Bride,'" conservative columnist Matt Walsh told TheBlaze's Dana Loesch Monday night, "[But], the prince says to the princess, toward the end of the movie, 'I hope you'll consider me an alternative to suicide.' That's the case that [Donald Trump and Hillary Clinton] have to make now."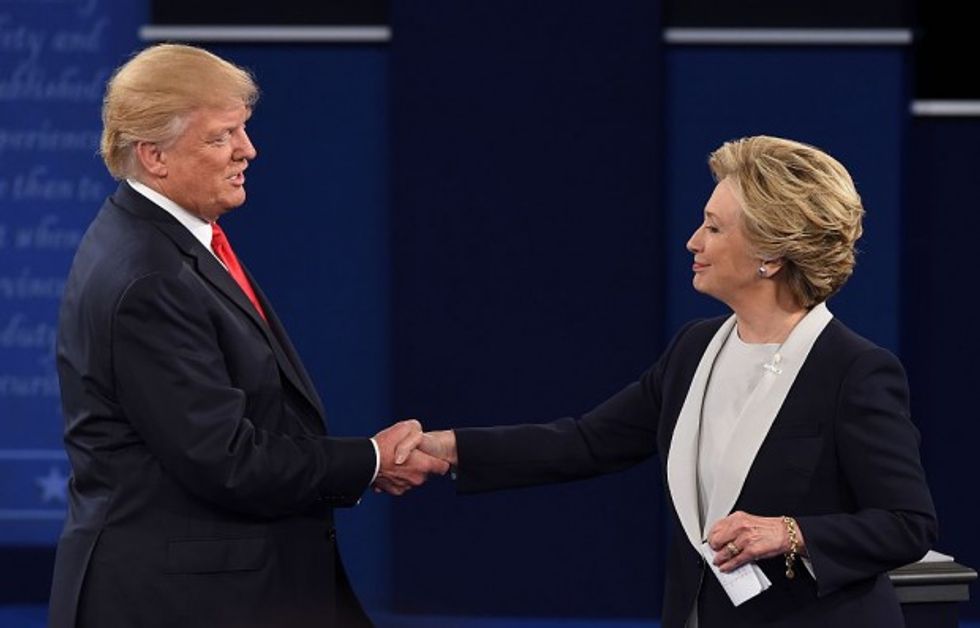 ROBYN BECK/AFP/Getty Images
While he described both candidates as "not great," Walsh said it is up to both Clinton and Trump to convince the American electorate that they are "better than suicide," which, of course, means they have to work to portray each other as "suicide" in the merciless march to Nov. 8.
"It's gonna be really brutal and it's gonna be depressing," Walsh observed. "Because here's the thing: When they attack each other, that's when they're at their best, but it's also the only time when they're honest. It's actually the only time when they're right about anything."
"That's all true — what Donald says about Hillary," he continued, "but most of the stuff she says about him — let's be honest — is also true, and so there are no real winners in this whole thing to be honest with you."
Though his opinion is rather gloomy, most American voters seem to agree with Walsh. Both Clinton and Trump have around 60 percent unfavorable ratings and most are just ready for the entire election to be over.
According to a Pew Research Center study last month, 57 percent of voters are frustrated and 55 percent are disgusted by both campaigns, while only 31 percent of voters are interested in the process. And only 15 percent of the electorate is optimistic about the outcome.
The main motivator, based on the report, is relief — not excitement. For Clinton supporters, 68 percent say they would be relieved if she won, while 61 percent of Trump's supporters say they would be relieved if he succeeds in November.
Watch: