Former Breitbart executive Stephen Bannon may have just joined Donald Trump's campaign officially in August, but he's been a "confidential" member of the Republican presidential nominee's team for more than a year — and so has his news site.
"I'm Trump's campaign manager," Bannon wrote in an August 30, 2015, email to Hollywood screenwriting friend Julia Jones, according to a report from The Daily Beast.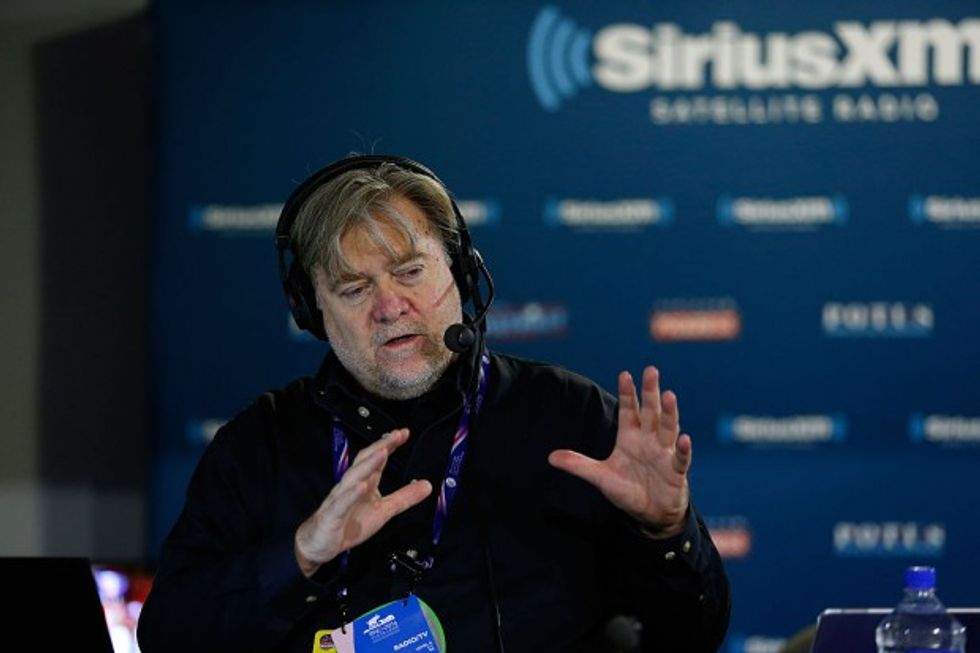 Steve Bannon (Kirk Irwin/Getty Images for SiriusXM)
"OMG! Is that confidential or can I tweet it :))," Jones replied the same day. "I am soooo impressed. Really! He couldn't have picked a better person. OMG!"
Bannon told Jones the news was "confidential," adding, "Don't u ever read breitbart--its trump central."
"[Rick] Santorum, [Ted] Cruz , [Jindal], Dr. [Ben] Carson, Carly [Fiorina] all great. Trump is a nationalist who embraces [Sen. Jeff Sessions'] immigration plan," the ex-Breitbart boss wrote when Jones asked if Trump is "a little far left for you."
The revelation is anything but a surprise. Breitbart — jokingly called "Trumpbart" by many in the media — has long been a safe haven for the brash billionaire. The site's stories often read like Trump campaign talking points and it even chose to side with the candidate when former campaign manager Corey Lewandowski was accused of assaulting Michelle Fields, who was a Breitbart reporter at the time, in March of this year.
But in an email to The Daily Beast, Alexandra Preate, a spokeswoman for Bannon, said the conservative media personality "is not nor has ever been 'campaign manager.'" Instead, she said he is a "volunteer — as CEO."
Conservative pollster Kellyanne Conway is technically Trump's campaign manager. However, Bannon has become one of Trump's closest confidants over this tumultuous battle for the White House.
Bannon was in the room when Trump spoke with former President Bill Clinton's sexual assault accusers ahead of Sunday night's presidential debate and is likely on board with the real estate developer's apparent decision to go to battle with members of the Republican Party, specifically House Speaker Paul Ryan (R-Wis.).
According to a report from The Hill, Bannon isn't a big fan of Ryan, either. A source close to Breitbart told the outlet Bannon would often refer to the speaker as "the enemy" in conference calls and wrote in a December 2015 email that the "long game" for his site was for Ryan to be "gone" by spring.
"He goes on these amazing rants," the source said. "He thinks Paul Ryan is part of a conspiracy with George Soros and Paul Singer, in which elitists want to bring one world government."
It appears those bold thoughts could be rubbing off on Trump, who called Ryan, the senior most Republican in the U.S., a "weak and ineffective leader" Tuesday.
Our very weak and ineffective leader, Paul Ryan, had a bad conference call where his members went wild at his disloyalty.

— Donald J. Trump (@realDonaldTrump) October 11, 2016