Republican vice presidential nominee Mike Pence stressed the importance of forgiveness Wednesday morning as he continued to do damage control in the wake of the damning leaked audio that depicts his running mate speaking about women in a crude manner.
During convocation at evangelical Liberty University, the Indiana governor praised Donald Trump for apologizing for the remarks he made in 2005 — in which he bragged about getting away with kissing women and grabbing them "by the pussy" because he is a "star."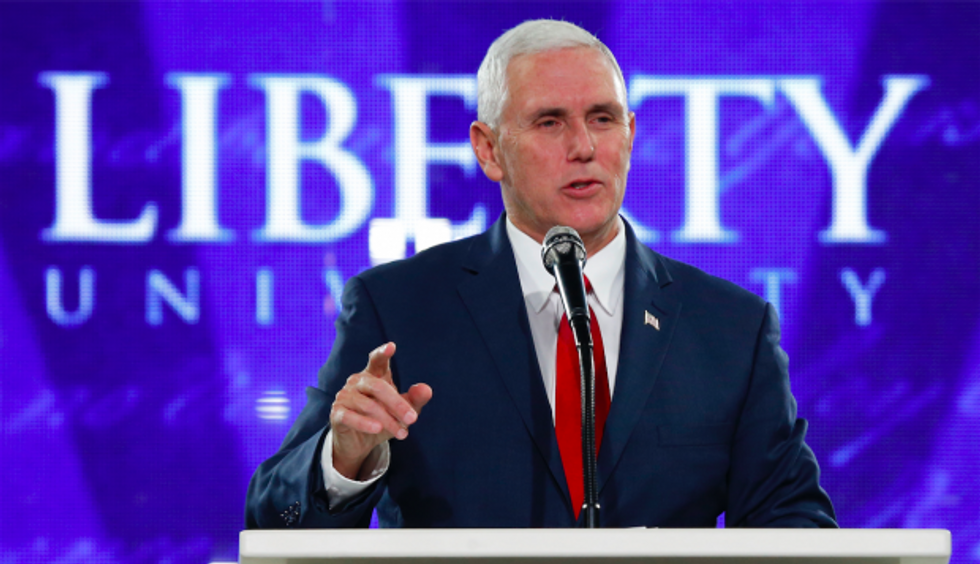 Republican vice presidential nominee Indiana Gov. Mike Pence gestures as he speaks at Liberty University in Lynchburg, Virginia, Wednesday. (AP Photo/Steve Helber)
Trump apologized for the remarks in a video message Friday as well as during the debate. However, the Manhattan businessman has also written off the comments as simply "locker-room talk" and seemingly has been unable to stop the hemorrhage of Republicans who have abandoned him in the tape's aftermath.
But despite rumors to the contrary, Pence has stuck with Trump and praised him for being a "big man" and admitting to his wrongdoing as he addressed Liberty students and faculty.
Pence urged the audience to forgive Trump as well and not "sit on the sidelines" when there are other important issues in this election.
"As a believer, I believe we're called to aspire to live godly lives, but also we recognize that we all fall short. It is not about condoning what is said; it's about believing in grace and forgiveness. As Christians, we are called to forgive even as we've been forgiven," Pence said.
"I would submit to you, last Sunday night my running mate showed humility," Pence continued. "He showed what was in his heart to the American people and then he fought back, turned the focus to the choice that we face and that is a more dramatic choice than any time in any election in my lifetime."
Liberty University President Jerry Falwell Jr. has also stuck by Trump in the wake of the tapes and blamed establishment Republicans for the leak.
"It was completely out of order. It's not something I'm going to defend," Falwell said Sunday. "We're all sinners, every one of us. We've all done things we wish we hadn't."
He added, "We're never going to have a perfect candidate unless Jesus Christ is on the ballot."
While discussing his own faith journey to those gathered in Lynchburg, Virginia, Pence joked that he joined a collegiate Christian fellowship group because of the attractive young women.
"I started attending a small Christian fellowship group on the campus, and I won't say that it was because there were a lot of attractive and available young ladies who went to the Christian fellowship group, but there it is," Pence said. "I heard some clapping for that. There might be other men in the room who can relate."