Donald Trump's campaign said Friday a British man is refuting a claim from a woman who says the Republican presidential nominee groped her in the first-class cabin of a New York-bound flight some three decades ago.
"What she said about Trump is wrong," Anthony Gilberthorpe told the New York Post of Jessica Leeds' allegations against the billionaire businessman. "I mean, no decent human being could sit by and have a woman go on television and tell the United States of America — accuse an individual of sexually molesting. It's wrong for Trump, it's wrong for me. But you know something else? It's wrong for the American people."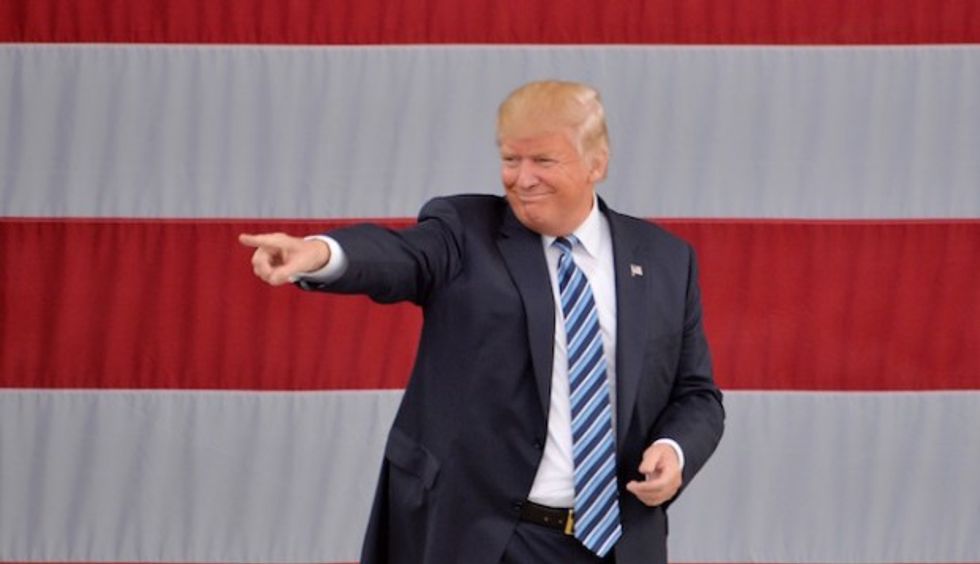 Donald Trump (Sara D. Davis/Getty Images)
Gilberthorpe, in a conversation orchestrated by Trump officials, told The Post that he was on the flight — either in 1980 or 1981 — Leeds is claiming the groping took place. He said he "cannot imagine why" Leeds would level such accusations against the GOP candidate.
"Not only did he not do so (and I was present at all times) but it was she that was the one being flirtatious," Gilberthorpe, 54, told the outlet, adding that Leeds was "trying too hard" to win Trump's affection.
In an interview with CNN, Leeds said, "The guy in the seat across the aisle could see. And I kept thinking, maybe the stewardess is going to come and he'll stop, but she never came."
Trump accuser: "I kept thinking, well maybe the stewardess is going to come and he'll stop, but she never came." https://t.co/vsLpH4AkG8

— CNN (@CNN) October 14, 2016
That comment in particular frustrated Gilberthorpe, who asserted, "That I sat there — eyes bulging —  and not intervening is nonsense."
However, Gilberthorpe, today a retiree living in northwest England, has no physical evidence to back up his claim and, in fact, has somewhat of a checkered past of his own.
In 2014, the former Conservative party activist admitted to supplying underage boys to high-ranking government officials for sex and drug parties. Gilberthorpe was 17 years old when he did those things and claims to have been tasked by senior figures in then-Prime Minister Margaret Thatcher's administration to procure the "youngest and prettiest" boys, who often indulged in alcohol and cocaine before having sex with the politicians.