With less than 25 days until this unprecedented presidential election, the 2016 cycle continues to break the mold.
Following the almost-fiasco at the Oct. 9 presidential debate in St. Louis, when Donald Trump's campaign tried to parade three women — Juanita Broaddrick, Paula Jones and Kathleen Willey — who accused former President Bill Clinton of sexual assault in front of him by placing them in the family seating area, Hillary Clinton's campaign is requesting a change, according to a New York Times report.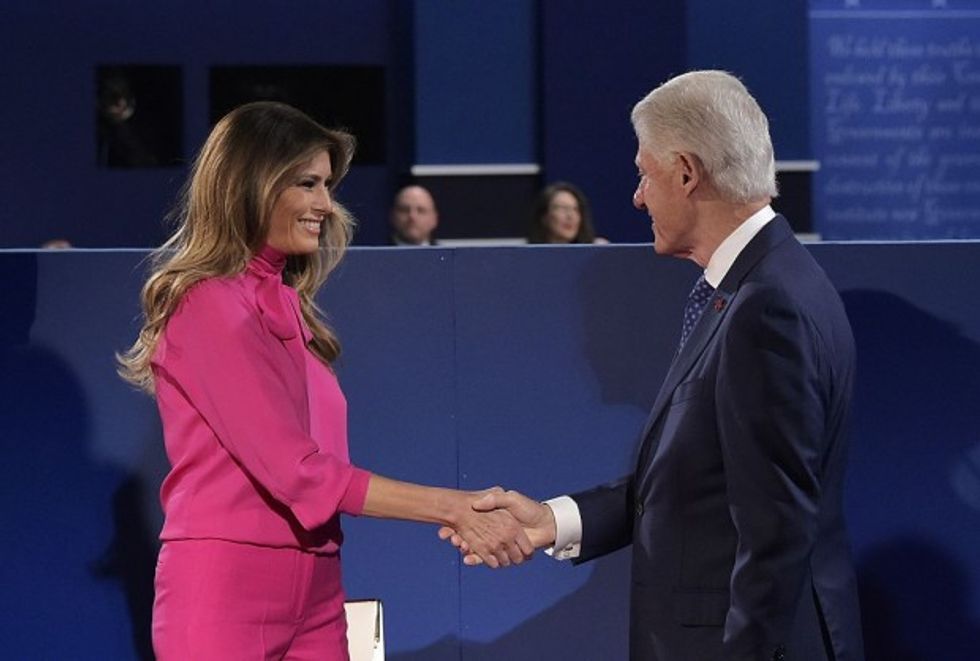 Melania Trump and Bill Clinton shake hands at the presidential debate in St. Louis, Missouri on Oct. 9 (MANDEL NGAN/AFP/Getty Images)
Had the attention-grabbing plan not been thwarted last minute by the Commission on Presidential Debates, Bill Clinton would have been forced to shake his accusers' hands on national television. Ultimately, the women were seated elsewhere and never came close to the former commander in chief.
Regardless, the Democratic presidential nominee's team doesn't want to risk the potential for another stunt from Donald Trump during the final showdown in Las Vegas Wednesday night.
According to the new arrangement, which the Times reported has been approved, both Melania Trump and Bill Clinton will enter the debate hall from locations closer to their seats, ensuring the two political spouses never cross paths.
While it is possible a new plan could emerge by debate time at 9 p.m. ET, both sides would have to agree to the arrangement. Potential alterations to the traditional practice comes after Donald Trump and Hillary Clinton failed to shake hands at the start of the St. Louis debate, though they did at the conclusion.
News of the shifting arrangement follows reports that President Barack Obama's half-brother Malik will be in the Vegas audience Wednesday evening to root for Donald Trump, who he said "can make America great again."